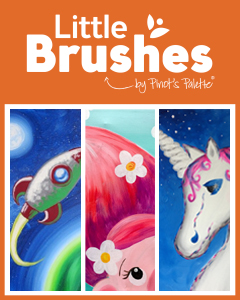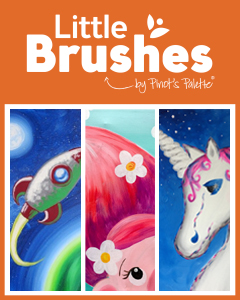 Little Brushes
The Majestic One
Thursday, June 15
10:00 - 2:00PM
Learn more
A magical creature of beauty and mystery, unicorns are thought to just be the work of wild imaginations. So let your imagination bring this majestic, mythic animal to life!
(AGES 5-15) Looking for a fun and creative outlet for your little artist? Then Little Brushes Summer Camp has exactly what you are looking for! At Little Brushes we offer a fun-filled atmosphere where your little artists can have a blast creating their own masterpieces. From painting, to collaging, crafts and everything in between, Little Brushes fosters a friendly and collaborative environment your little artist will need to bring out their creative spirit.

***3 DAY SERIES*** The theme for this Summer Camp is FANTASY. From rocket ships to unicorns, come explore the world of your imagination. Each day from 10am - 2pm we will feature one of our paintings, break for lunch, and then continue with a unique craft. We'll have different paintings, activities and games each day!

Register your young artist for all 3 days of our June Little Brushes Summer Series FANTASY and we'll throw in a frame of your choice ($45 value)!

Please read the following IMPORTANT info:

Payment of $135.00 is for the full 3 days of camp (Tuesday-Thursday, 10am - 2pm daily).

This Little Brushes Summer Camp is open only to young Artists (ages 5 to 15). Adults are unable to register to attend this camp. Thank you for your understanding.

Please bring a nut-free lunch each day. Water, juice, and soda will be provided.

Make sure to dress your Artists in clothes that are acceptable to get a little messy! We'll have aprons for everyone, but accidents do happen.

CLASSES HELD:
Tuesday June 13th – 10am-2pm
Featured Painting: Blast Off

Wednesday, June 14th – 10am - 2pm
Featured Painting: Trolling Around

Thursday, June 15th – 10am - 2pm
Featured Painting: The Majestic One

*CANCELLATION POLICY:
Due to the custom nature of our Little Brushes Summer Camp, NO REFUNDS will be issued for reservations. A 5-Day notice is required to receive class credit towards any future camp or regular public class. NO DISCOUNTS, other than gift certificates, may be used.

NO ALCOHOL SERVED during Little Brushes Summer Camp.
Little Brushes:
A special painting class for kids! All the fun of a regular paint party, but set up specifically for little hands. Contact our studio for full details.