Project Pet Photo Tips
Create a tribute to your furry friends while enjoying a drink with your human pals! Anyone can do Project Pet, regardless of art experience. A professional artist walks you through color mixing and painting techniques to get your pet's fur and features just right. There's no guesswork and no pressure.
Paint your dog, chicken, iguana, or pig – we don't discriminate. At the end of the night, you'll have a frame-worthy keepsake. This event is a must for every pet lover!
We are so excited to help you create a stunning pet portrait! In order to make the experience as pawsitive as possible, please read the information below.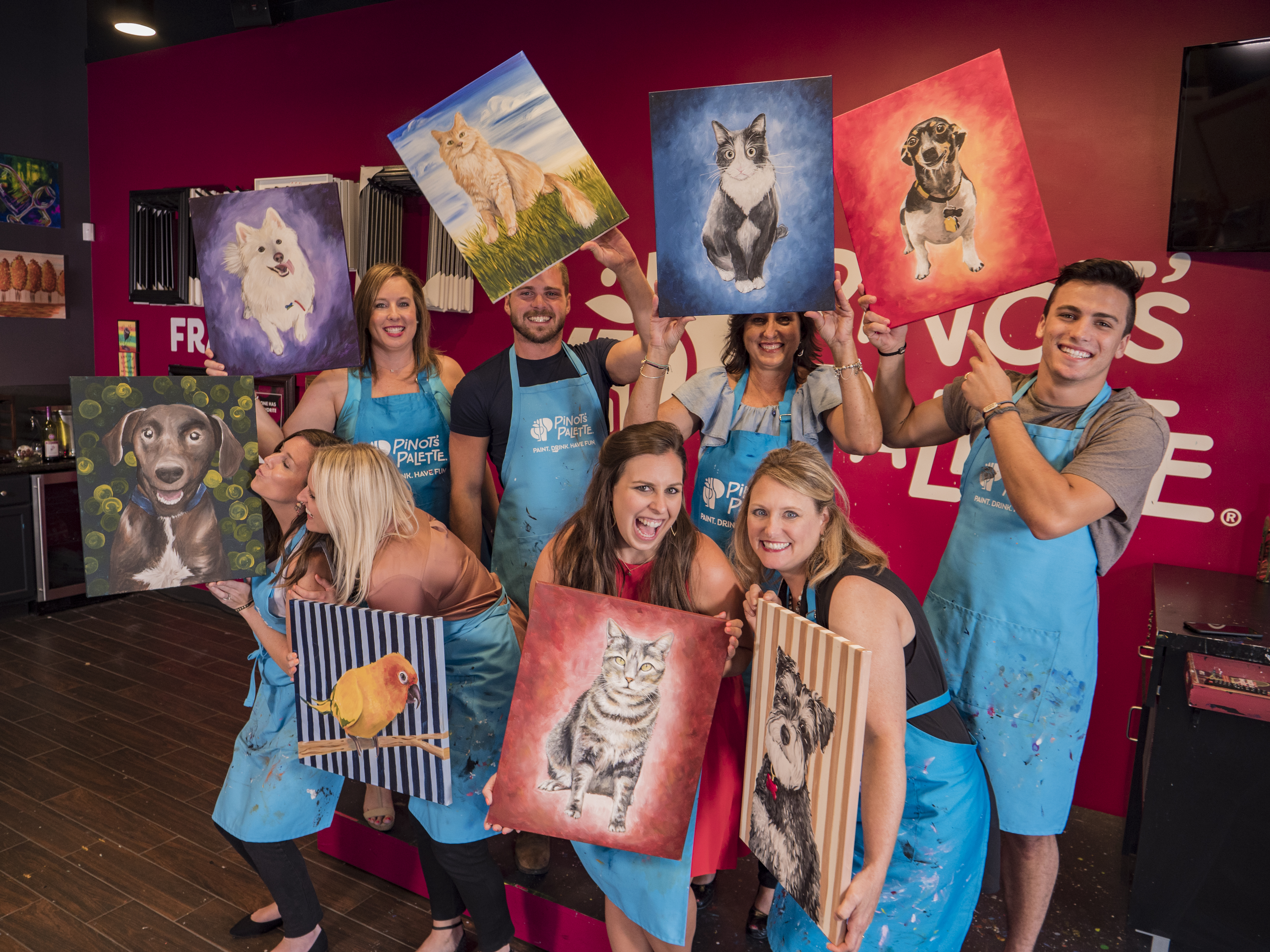 HOW TO TAKE A GREAT PHOTO OF YOUR PET
WHEN AND WHERE
-Take your pet's photo at home or in a familiar place. New smells are distracting.
-Position your pet indoors facing a window OR outdoors under a patio or awning.
-Take the photo when the sun is shining in the morning or afternoon.
-Choose a background that contrasts with your pet's color. Dark pet -> light background, and vice versa.
-Try to avoid times when the pet is stressed out, like after a bath or brushing.
HOW
-Use the best camera you have available to you, and avoid using flash.
-Get up close. You should be 4ft. or closer to your pet when photographing him.
-Using a binder clip, place a treat on top of the camera to get your pet's attention. Reward him with treats after each photo. He will learn very quickly that posing for the camera = reward.
-Remove all objects from the photo. Any toys/treats/blankets placed in front of your pet will be cut out of the final image before printing.
HOW TO SUBMIT YOUR PHOTO
-Save your digital image as a JPG file. You should always choose the highest quality and highest size settings possible when uploading or sending the picture.
-Your image should be over 1MB in file size.
-Send your photo to our studio in an email. longbeach@pinotspalette.com
-Make the subject of the email "YOUR NAME / Project Pet"
If you have any questions about the photography process, please call us for help.
Share Sign up for our March class | Sign up for our June Class