Fabulous Team Adding Amazing Bartenders
Pinot's Palette is a leader in the paint and sip industry! We are building an exceptional sip and paint team for our Logan Square studio.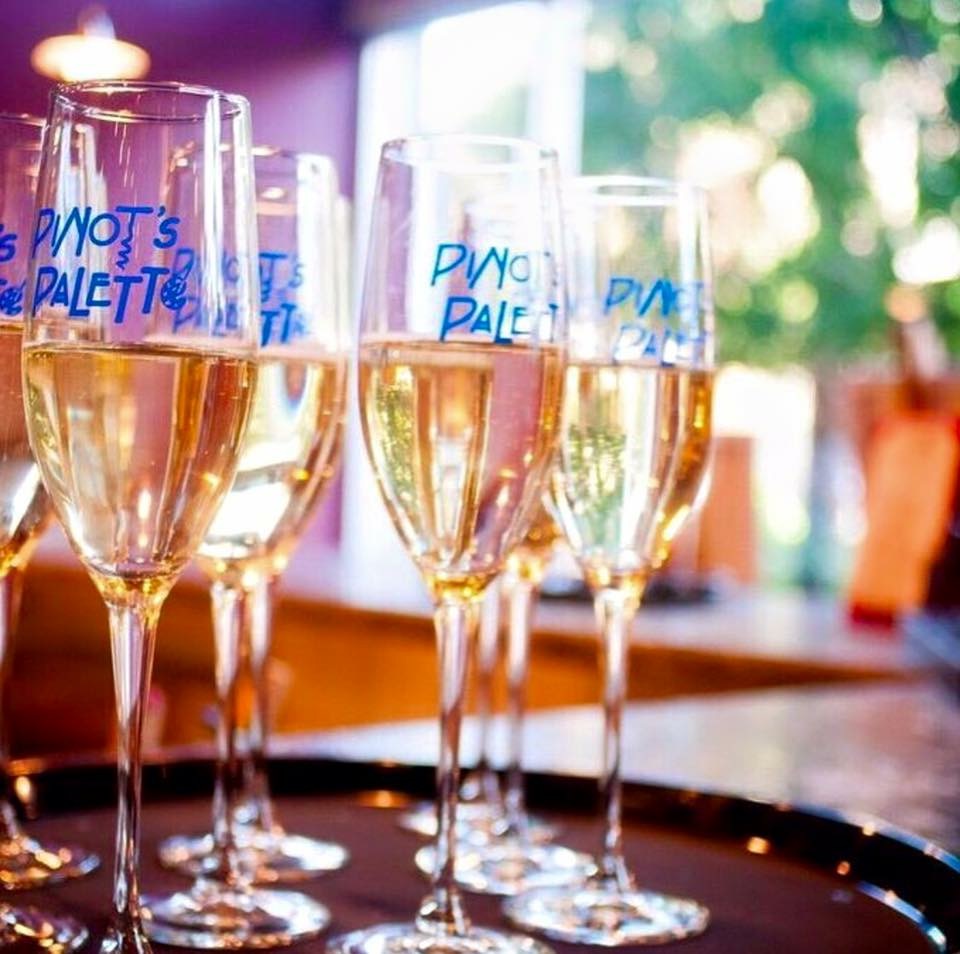 Our team members are full of passion and integrity. They are driven - with an entrepreneurial spirit, kind, genuinely hospitable, resourceful, innovative, creative, and engaging. Our team creates memorable experiences by delivering quality art instruction & beverages service in a fun and engaging atmosphere. We encourage our team members to showcase their individual personalities and creative genius. They take their work seriously, but they don't take themselves TOO seriously! With an overarching goal to provide an exceptional experience, they never lose sight of how important it is to paint, drink, and have fun.
Our team creates memorable experiences by delivering quality art instruction and beverages in a fun and engaging atmosphere. We empower our team members to showcase their individual personalities while delivering an exceptional experience.
Our bartenders provide efficient, high quality service. In addition to serving libations, they become experts in the wine we offer, participate in bar menu planning and have opportunities for their own custom cocktails to be featured in our bar. The right individual will be familiar with the latest in mixology, bar equipment and sanitation standards, with a focus on maintaining a clean, attractive bar.
Bartender Responsibilities:
Welcome guests and serve beverages in a positive and engaging manner
Verify guests who purchase alcohol are at least 21 years of age
Set up and maintain a clean, attractive, well-stocked bar
Maintain full and confident knowledge of bar offerings and make recommendations
Provide exceptional service by engaging and interacting with guests
Become an expert about our studio wine selections, share knowledge and make recommendations to guests
Take beverage orders and serve guests, both from bar and in the studio rooms
Complete bartender specific tasks for opening, running and closing the studio, as assigned
Assist art instructors and other team members, as needed
Requirements:
At least 21 years of age with a high school diploma or GED
Minimum 1 year of experience providing high end bar operations and safe, responsible alcohol service
Current BASSET License Card and sound understanding of state and local serving guidelines
Ability to handle a rush of guests at once, efficiently and with an upbeat attitude.
Ability to monitor guests and anticipate their needs
Strong knowledge of alcohol mixology, wine, craft beers and classic cocktail preparation
Accurate cash handling skills
Prior POS Experience
Ability to stand for an extended period of time
Ability to lift up to 40 pounds safely
Desire to have fun while working with integrity
Willing to work flexible shifts
Excellent customer service skills with desire to engage and interact with guests
Is our culture a good fit?
If you are interested in joining our team and believe our culture is right for you, please send the following to logansquare@pinotspalette.com with "Bartender" in the subject:
Resume
Three recent work references, including at least one manager and one co-worker
Availability to work; Indicate all that apply: weekdays, weekday evenings, weekend days, weekend evenings
Your answers to the two questions below:
What's The Best Tip You've Ever Received While Bartending?
What's The Worst Date You've Ever Witnessed While Bartending?
Compensation: Competitive hourly pay + tips
Location: Logan Square - 2768 N. Milwaukee Ave
Start Date: April 2016
Enter your contact info and request details below, and we will contact you with details about your private party!