Liberty Station Food and Bar Menus
Enjoy a glass of white or red wine, or beer or our nonalcoholic selections from our bar menu. Private Party planners see what we have in store for you during your event, and maybe let us know what you would like to pre-order.
See the Food Menu delivered by Solare Restaurante:
http://www.s...lare-Menu.pdf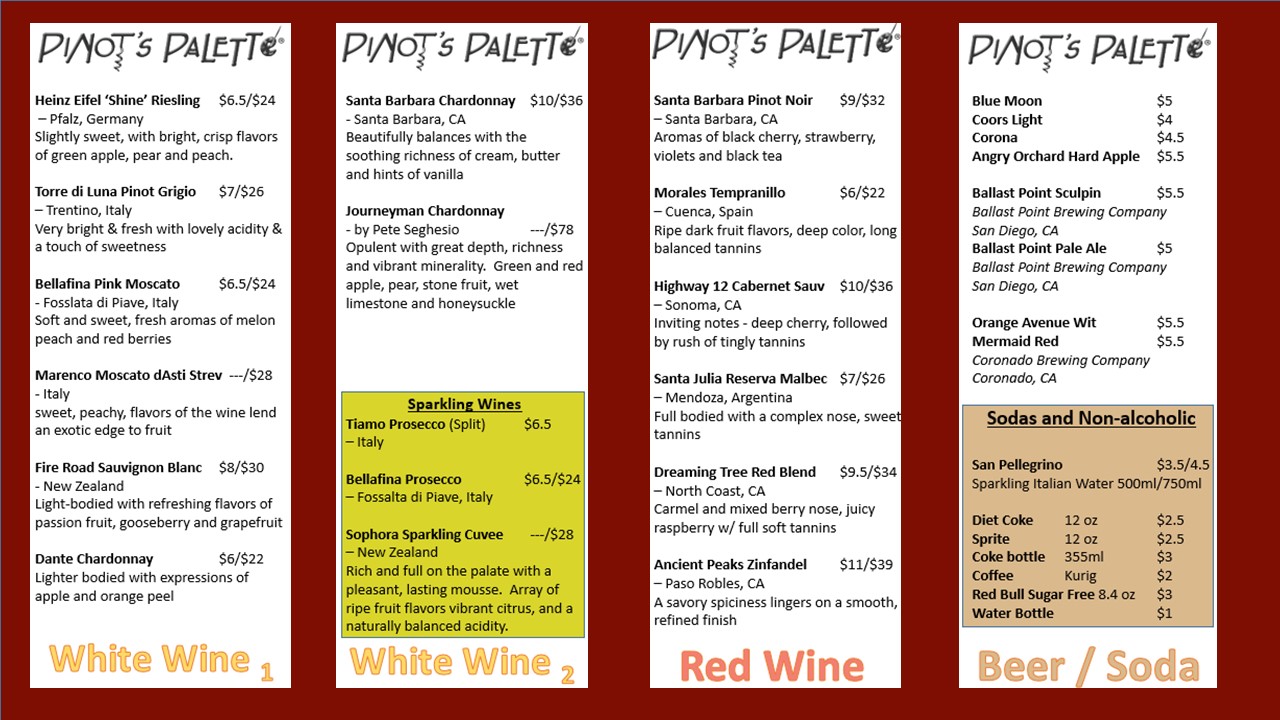 White Wines Red Wines Beers and Non-alcoholic beverages available. Paint. DRINK. Have Fun!!!
Prices are listed for Glass/Bottle ("$---" signifies selection not available by the glass)
Heinz Eifel 'Shine' Riesling $6.5/$24
– Pfalz, Germany
Slightly sweet, with bright, crisp flavors of green apple, pear and peach.
Torre di Luna Pinot Grigio $7/$26
– Trentino, Italy
Very bright & fresh with lovely acidity & a touch of sweetness
Bellafina Pink Moscato $6.5/$24
- Fosslata di Piave, Italy
Soft and sweet, fresh aromas of melon peach and red berries
Marenco Moscato dAsti Strev $---/$28
- Italy
sweet, peachy, flavors of the wine lend an exotic edge to fruit
Fire Road Sauvignon Blanc $8/$30
- New Zealand
Light-bodied with refreshing flavors of passion fruit, gooseberry and grapefruit
Dante Chardonnay $6/$22
Lighter bodied with expressions of apple and orange peel
Santa Barbara Chardonnay $10/$36
- Santa Barbara, CA
Beautifully balances with the soothing richness of cream, butter and hints of vanilla
Journeyman Chardonnay
- by Pete Seghesio ---/$78
Sparkling Wines
Tiamo Prosecco (Split) $6.5
– Italy
Bellafina Prosecco $6.5/$24
– Fossalta di Piave, Italy
Sophora Sparkling Cuvee ---/$28
– New Zealand
Rich and full on the palate with a pleasant, lasting mousse. Array of ripe fruit flavors vibrant citrus, and a naturally balanced acidity.
Red Wines:
Santa Barbara Pinot Noir $9/$32
– Santa Barbara, CA
Aromas of black cherry, strawberry, violets and black tea
Morales Tempranillo $6/$22
– Cuenca, Spain
Ripe dark fruit flavors, deep color, long balanced tannins
Highway 12 Cabernet Sauv $10/$36
– Sonoma, CA
Inviting notes - deep cherry, followed by rush of tingly tannins
Santa Julia Reserva Malbec $7/$26
– Mendoza, Argentina
Full bodied with a complex nose, sweet tannins
Dreaming Tree Red Blend $9.5/$34
– North Coast, CA
Carmel and mixed berry nose, juicy raspberry w/ full soft tannins
Ancient Peaks Zinfandel $11/$39
– Paso Robles, CA
A savory spiciness lingers on a smooth, refined finish
Beer:
Blue Moon $5
Coors Light $4
Corona $4.5
Angry Orchard Hard Apple $5.5
Ballast Point Sculpin $6
Ballast Point Pale Ale $5.5
Ballast Point Brewing Company
San Diego, CA
Orange Avenue Wit $5.5
Mermaid Red $5.5
Coronado Brewing Company
Coronado, CA
Sodas and Non-alcoholic:
San Pellegrino $3.5/4.5
Sparkling Italian Water 500ml/750ml
Diet Coke 12 oz $2.5
Sprite 12 oz $2.5
Coke bottle 355ml $3
Coffee Kurig $2
Water Bottle $1
Enter your contact info and request details below, and we will contact you with details about your private party!