Holiday Celebrations at Pinot's Palette
It's that time of year again! The holidays are fast approaching, and many people are stressing out trying to find the perfect place to host a holiday gathering. To all those lucky party planners out there, Pinot's Palette Lee's Summit has a message for you: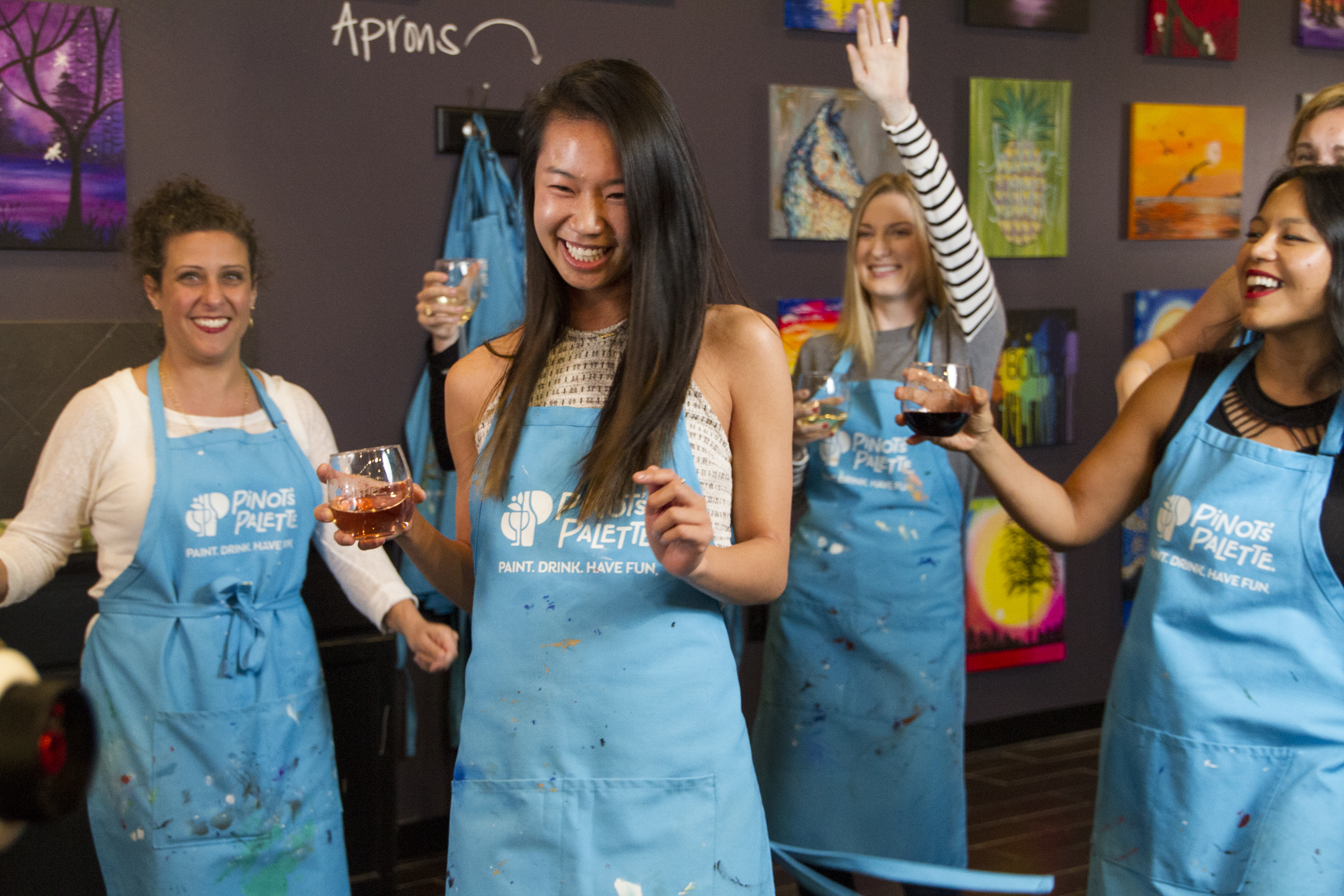 We'd LOVE to host your holiday gathering here! Whether you're planning a family gathering, birthday, shower, or bachelorette party, Pinot's Palette Lee's Summit offers both our main studio and private room for any type of party with seating capacity from 16 to 52!
Here's how it works:
You can e-mail us at leessummit@pinotspalette.com, Facebook us, or follow the "Private Events" link above to submit an inquiry.
You choose the date, the time, and we'll gladly hold your spot with a one-time, fully refundable deposit of $100. Once your spot is confirmed, you get to choose from any of our 2 or 3 hour paintings for one of our talented artists to walk your group through step-by step!
What you get:
Depending on the painting, either 2 or 3 hours of instruction with one of our many talented artists, the half-hour before and after your painting time slot, and the space to host the event. There is no charge for room rental, the charge is per painter with a minimum requirement of 8 painters. Each painter will leave with their own, personal, beautiful masterpiece to commemorate the gathering. What could be better?
The benefits:
Party planning is simplified! You simply pick a date and time, and we do the rest! We are a BYOB studio, which means you can bring WHATEVER food or drink your group loves. There are no limits! We provide plates, glasses, napkins, flatware, and bottle openers/corkscrews.
Planning an office party? We do that too! We have a variety of unique team-building events to help your office maximize the bond AND have fun channeling their inner Bob Ross:
• Musical Canvases - Painters start on one canvas and switch canvases at assigned times throughout the painting. By the end of the evening, everyone has had a hand in every masterpiece.
• Blind Painting - Painters are not shown in advance an example painting. The artist leads them through the process and at the end they are shown what the original example was.
• Jigsaw Puzzle - Each painter does an individual piece that would then be displayed as one group piece. (Best for smaller groups)
• Collaborative Painting – Everyone in the group contributes to a large 3 x 4 ft painting. One collaborative painting recommended for every 8-10 painters at the event.
Have a question about pricing or availability? Give us a call at 816-744-3161 or e-mail us at leessummit@pinotspalette.com.
We can't wait to paint with you soon!