10 Reasons Why You Should Make Team Building Your Priority
Summer time in the workforce is a time to recharge, to evaluate performance, make improvements, and create the ambiance in your workforce that bring people together with a common goal for your team. No matter what your goals are and what improvements need to be made, the core of your growth as a business IS your team!
Allow us to show you the reasons to take it to the next step and try a team building event that will re-engage, inspire, and strengthen your performance goals!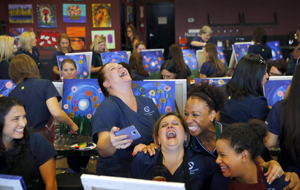 According to the International Journal of Current Research and the Harvard Business Review:
1) 79.7% of the employees will participate and be fully engaged in an activity outside rather than staying in the work environment or office. Our atmosphere is welcoming, bright, and fun with music to get the energy flowing!
2) Between May and September employees with the average 8 hour days have been reported to have the highest stress rate, 12% higher than December. Painting, music, wine, and laughing will take care of that nonsense!
3) Respondents indicated that a successful team building event leads to employees being united and committed to their occupation by an increase of 89.1%, high morale increase of 47% and a high performance increase of 78.1%! Our artist will help you create your masterpieces successfully as you have fun and socialize.
4) Businesses with engaged employees receive an average of 2.5x more revenue than companies with low engagement levels! We have different team building activities to engage your team to create something fun together!
5) Engaged employees are 87% less likely to leave their current position than disengaged employees. Implementing something new and innovative will reengage your employees and inspire them to think outside the box!
6) Office training with a speaker are reportedly over 70% less likely to retain the information than an active and fun activity! Our artists are trained and ready to have fun while keeping your team on task!
7) The top leadership challenges known throughout various occupations is collaboration. We can create a collaborative painting for you and your staff to create for your office!
8) Over 50% of communication can be attributed to social interaction outside of the workplace. Communication is key to building the strong professional relationships within you team!
9) Effective communication is estimated at over 5% more likely to achieve goals and strategic planning within the workforce.
10) Businesses and Organization leaders that are leading by example through innovative activities, inspire a team that are more likely to bring innovation, ideas, and initiative drive to the table. Need we say more?
Let us re-engage your team today!