New Years Resolutions?
Did you know that the New Year's Resolutions originated back as far as roughly 4,000 years ago with the Babylonians? They would return goods and pay their over due or past debts. After 4,000 years, we are still mentally, and sometimes physically, cleaning out the "junk" and improving upon the "you" based on family or society's expectations of ourselves. I'm here to tell you....to hell with their expectations! Lets make your own rules this year.
Be Bold. Be You.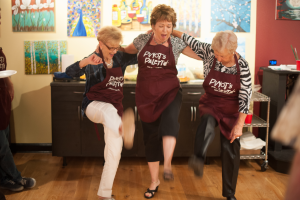 I'm not saying don't improve yourself. Improving is part of growing. I'm saying find a resolution that you truly wish you could do better in order to mentally feel good about being you! For some people, that really is getting in shape because maybe the doctor frowned a little too much during your last physical and you want to have the ability to chase and play with your children or grandchildren. Or maybe your current job has you playing candy crush while hiding in the bathroom and you just want something that makes you feel a bit more accomplished and recognized. Whatever the goals you have, Pinot's Palette Lawrence has come up with a few ways that we might be able to help!
1. Reconnect with your partner! We can all agree this is super important and probably not the highest priority for most. Pinot's Palette is dedicated to sharing our concept with couples everywhere. Date night doesn't have to be "dinner and a movie." Again! For the 3rd time in a row! Or reruns streaming on the T.V. At our location we host 1-2 Date Night parties a month for those couples looking to reconnect with a fun night out! Two canvases come together to complete a single masterpiece! Bring any food and beverages you want from our local restaurants within walking distance to complete your night!
2. Girls Nights! Also, VERY important! You don't want to be screaming at each other in a bar or taking up a booth at the local restaurant for 4 hours. Reserve your night out as a group/ individually online or over the phone for a night with us painting, drinking, and having fun! Its way more fun to have the memories on your wall!
3. Try something new and outside your box for fun! Hundreds of people have found their #happyplace at Pinot's Palette! We are the escape from the reality of your everyday chaos. Work, kids, school, stress. Painting, drinking, and having fun really gets your mind out of that crazy thing called life and back to you!
4. Accomplishments can be a cleansing and spiritual lifting experience. Pinot's Palette Lawrence is dedicated to sharing entertainment and art to the masses in a fun, relaxing, and welcoming environment with exceptional customer service. No matter what your artistic level is, our artists guide you step by step to create your masterpiece in a FUN way! Yes, you CAN paint and you will be shocked at what you can do!
5. Try a new bottle of wine! I know this is not nearly as important as the first 4, but wine helps everything feel better and happier, so why the heck wouldn't you?
May you be blessed with a resolution that will bring out the best of an already perfect YOU! Because its not about meeting their expectations, its about #YourYearYourRules.