5 Reasons To Host A Bachelorette Party at Pinot's Palette
Your ENGAGED! Time is ticking and your preparing for one of the biggest and most wonderful chapters in your life, but you and your Maid of Honor is clueless on how to share it with family and friends in a new and memorable way without breaking the bank!
You and/or wedding party has worked hard to plan this special moment and its time to start celebrating! We wanted to share 5 GREAT reasons you should let us plan your Bachelorette celebration!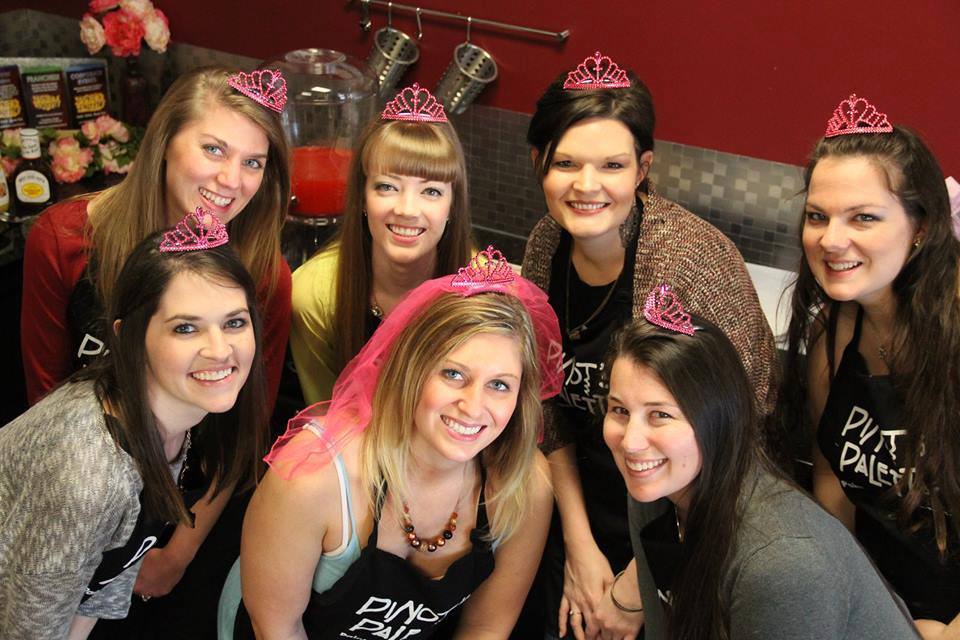 1. Our private parties can be a mix of any ages you want! Have a niece that isn't old enough to go "bar hopping?" No problem! They can drink non-alcoholic beverages while you sip your wine! Have an Aunt that isn't into crowds? We have an intimate private party room for your family and friends!
2. We can create your invitations for you! Keeping track of wedding invitations is hard enough as it is! Once you have placed your fully refundable deposit and picked your painting choice, we will create your invitations with a clickable link to your party event for them to sign up. Just forward your digital invite and your done! We can also give you an update whenever you wish to let you know who has reserved and paid!
3. We are a BYOB, so you can bring any beverages and food to make it more affordable for your party! Don't fiddle with rushing around to feed your guests! We have a partnership with HyVee to provide our private parties an exclusive menu for 10% OFF that will deliver or you can just pick it up on your way to the event! We also have ALL the amenities you will need that are included in your party! Plates, napkins, glasses, utensils, bottle openers, ice, platters, serving utensils, and complimentary bottles of water are all included! You just bring ANY beverages you wish to enjoy!
4. We set up and clean up! Walk away with just your painting and memories! We set up for your event prior to you and your guests arriving so we can assist you with anything you need when you need it! "Stress free" is our mission!
5. Your guests have something to keep with them to display on their walls to remember your special moment for years to come! Need we say more?
This is your time to celebrate, make memories, and share with the people you love most! Make the most out of it and do something original and fun! Call us at (785)856-3254 and let us help plan your bachelorette and bridal party for you!