Holiday Parties
Halloween has come and gone, as we look forward to Thanksgiving Turkey and…Christmas Parties? Although we have not sat down, or even put turkey on the table yet, company and departmental Christmas and Holiday parties are being planned.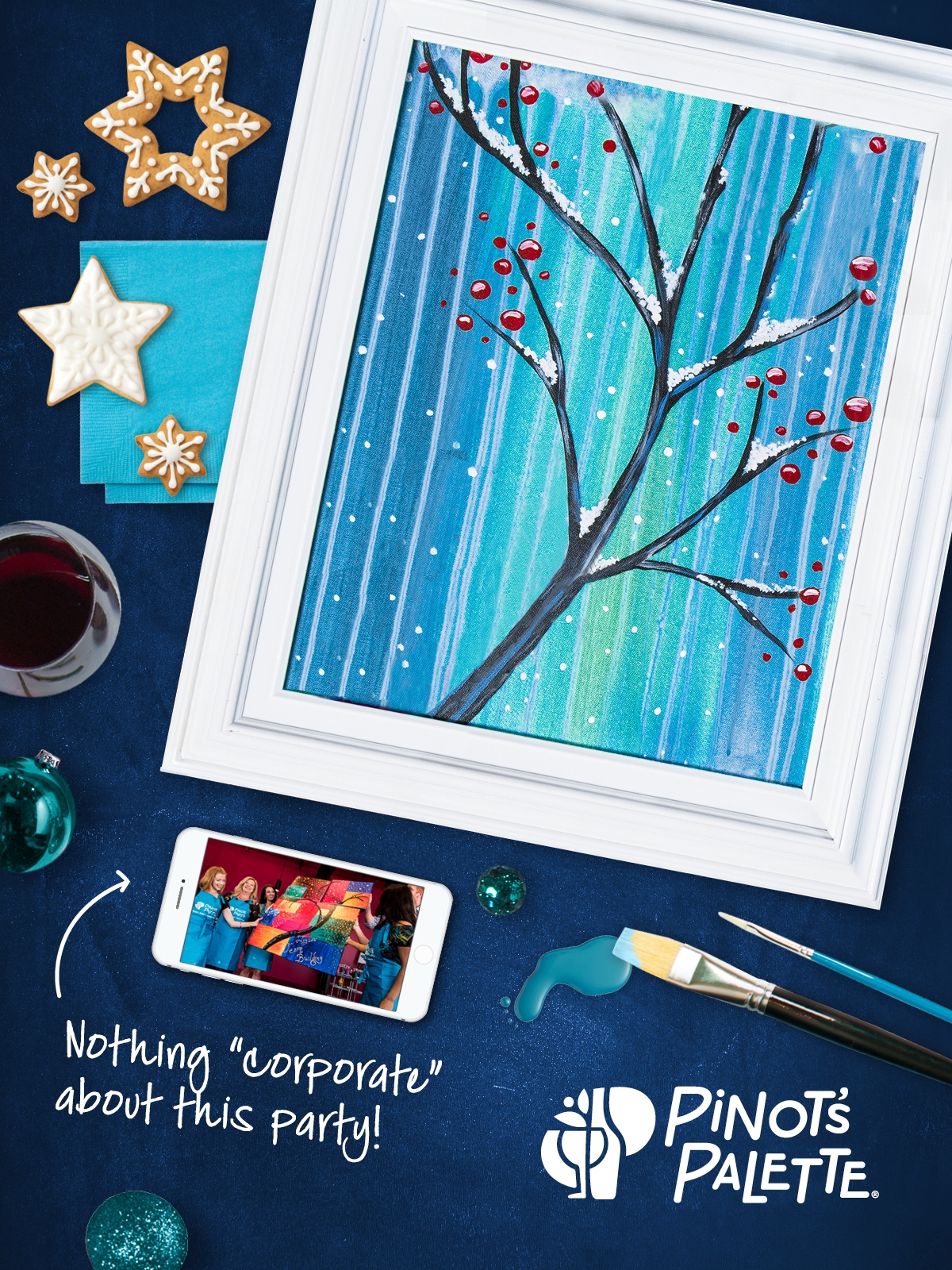 The first question you might ask, "Should I do something special for my team? As always, budgets are tight and time is even tighter." The answer…YES! This time of year is a great "opportunity to show employee appreciation and help team members to better get to know the company and each other." (How Important Are Holiday Parties For Company Morale?, 2015)
The next question, "Why paint? We can just go to dinner or lunch." Why not paint! This is an experience for everyone whether or not you have touched a paint brush since kindergarten. At Pinot's Palette La Vista, we provide a festive team building experience that is actually fun. "It turns out that happiness and learning are tied very closely together. Trying new things with your staff can generate good vibes among employees, which in turn benefits the business itself. Choosing something unique and slightly outside of people's comfort zones can encourage them to come together in new ways." (Scudamore, 2016)
A paint and sip experience is more than just the painting. We provide an upscale event, creative freedom, and superior service with work benefits. Work benefits? Yes, paint and sip events have a hidden benefit for employers: Painting encourages the brain to work in new ways, stimulating employees' creative thinking and problem-solving abilities.
We provide full-service holiday party planning for you and your employees. What's even better is that at the end of the party, each employee walks away with a masterpiece to remember the experience.
Each event includes a painting, of course. However, that is not the only thing we can help you with. We have other party options you may choose to include: we can arrange catering, a staffed bar, and a fun, entertaining atmosphere.
For more information, you can all us at 402-502-5656.
Works Cited
-How Important Are Holiday Parties For Company Morale? (2015). Retrieved from www.ZipRecruiter.com:
https://www....mpany-morale/
-Scudamore, B. (2016, March 9). Why Team Building Is The Most Important Investment You'll Make. Retrieved from www.forbes.com:
https://www....#5d9c9665617f