Creating Our Team
Although I now work at a local paint and sip studio in La Vista, I still believe team building is as important now, as it was when I worked at a large corporation. It is my belief that a company is never too big or too small (unless you are a business of one) to focus on team building.
"Despite its reputation for being, well, lame, team building is the most important investment you can make for your people. It builds trust, mitigates conflict, encourages communication, and increases collaboration." (Scudamore, 2016)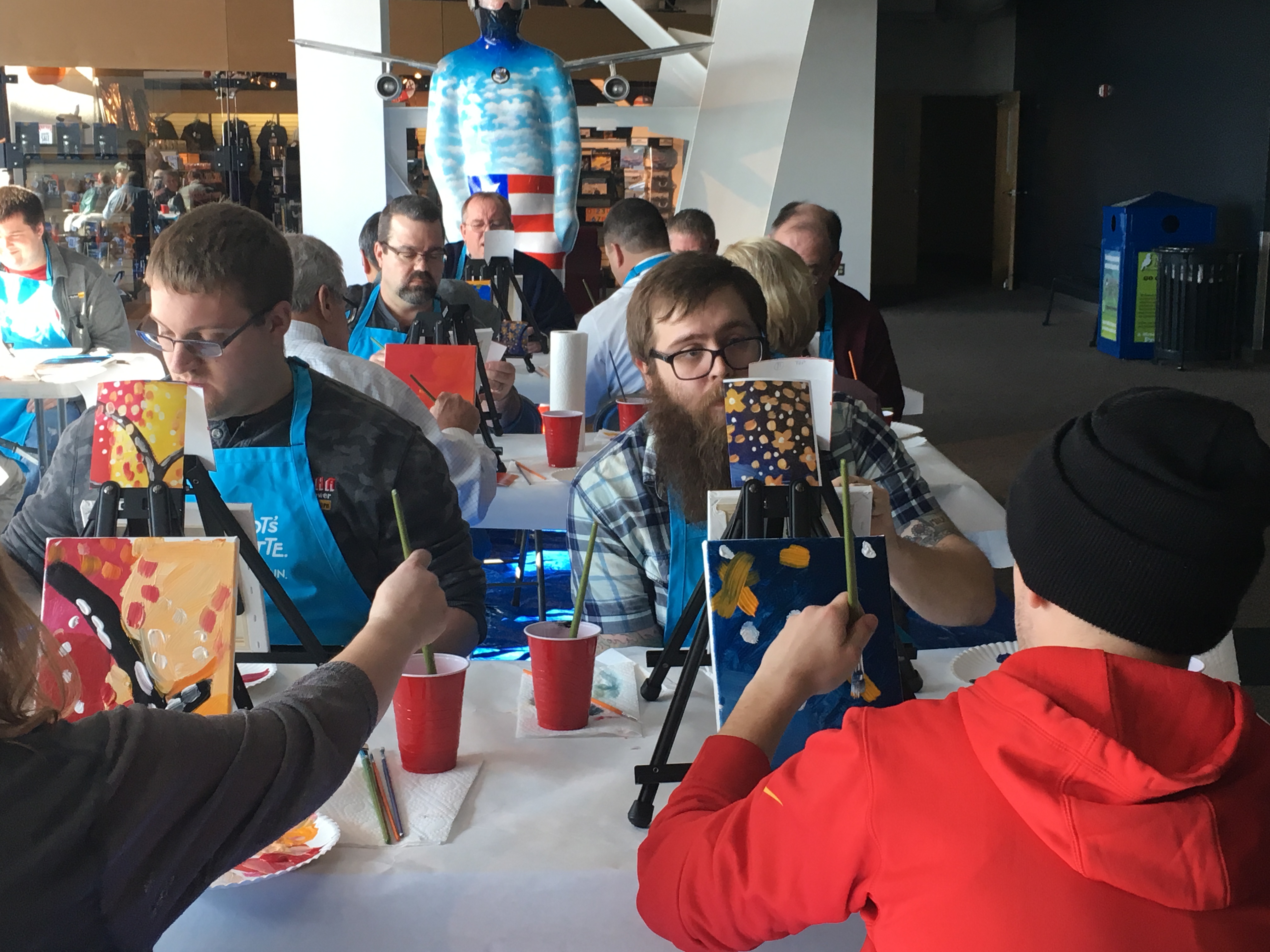 A little over 10 years ago, I was asked to manage a team that was understaffed, unmotivated, and misunderstood. The team was suffering from a lack of TLC. The previous manager had not taken the time to understand the strengths and weaknesses of each employee. In addition, there was not a sense of team, they didn't realize that they were stronger and more successful together than they were alone. However, when I left this department 7 years later, we were a well-respected, efficient, high-performing team.
It was not an easy journey, there were hurdles to overcome and walls to break down. However, manager to employee meetings where I listened, team meetings where we communicated, and time for team building paid off for not only me and my team, but the company's bottom line. We solved problems not only in our area, but in other parts of the organization. We were able to do more with less people and time…and we enjoyed it. We liked coming to work and others liked working with us.
"The most successful, memorable team-building events are ones that don't feel like a day at the office. Activities that overtly aim to draw in leadership lessons or practical takeaways are less powerful. Spending time together, sharing an experience or working towards a common goal allows bonding to happen more organically and far more effectively." (Scudamore, 2016) When we were developing our team, we found that not only was it important for the team building to not feel like we were spending another day at the office, but it was also important for us to not always be at the office.
"It turns out that happiness and learning are tied very closely together. Trying new things with your staff can generate good vibes among employees, which in turn benefits the business itself. Choosing something unique and slightly outside of people's comfort zones can encourage them to come together in new ways." (Scudamore, 2016) Therefore, when we were deciding on activities, we not only went to the usual lunch or dinner, but we also tried new things, including: playing board games, going to an escape room, and community service for others.
Now, as I start the new chapter at Pinot's Palette La Vista, I want to create a similar team atmosphere. I want this studio to be a place where the employees love their job, enjoy working with each other, and provide the best experience for our customers.
So now, I am looking to invest in team building for my artists and bartenders so that they can provide superior team building experiences for others.
What activities do you suggest? I guess a day of painting for us might be too similar to a "normal day at the office."
Works Cited
Scudamore, B. (2016, March 9). Why Team Building Is The Most Important Investment You'll Make. Retrieved from www.forbes.com:
https://www....#5d9c9665617f