2018 Summer Kids Camps
We are once again offering a fun and creative outlet for your little artists with our Little Brushes summer camps for school aged kids will keep your kids busy, challenged, and of course, creative.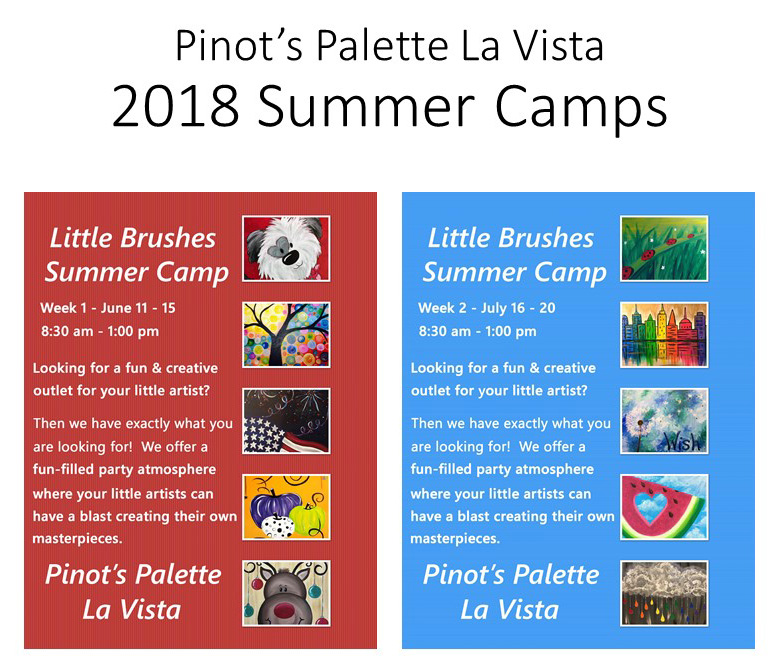 Why is Pinot's Palette La Vista's summer kids camp a good choice for your child?
Although arts and crafts are healthy for both adults and children, they are important in the development of children. Children can gain improved creativity, focus, confidence, decision making, and even academic performance.
Creativity. Art can create an outlet for the young artist to express themselves. As with any skill, practice will help your child
to use their creativity naturally.
Focus. A finished art or craft project requires grit and determination, increasing a child's ability to focus. This skill will be
beneficial in other areas of their life.
Confidence. Art is a visual skill that allows children to see and recognize their improvement. As their skills grow, so does
their confidence.
Decision Making. Similar to adults, art increases problem solving and critical thinking skills.
Academic Performance. The improvement in creativity, focus, confidence, and decision making transfer into academics.
Information about our Little Brushes summer kids' camps:
The Little Brushes summer kids camp is five days long, Monday through Friday. Each day we will feature one of our paintings on an 11 x 14 canvas, a unique craft, and fun activity led by our professional artists. The crafts will reflect each day's theme (based on the painting featured). Crafts may include rock painting, glass painting, garden stones, frames, and Duck tape more.
The week-long summer art camp is only $200 for the entire week of arts, crafts, and fun. However, we are making the deal even better…We have an early bird registration deal which will reduce the week-long price to $150. Use discount code EARLYSUMMER18 during checkout (before providing payment) to get the $50 discount. Early Bird Registration discount is only good until May 6th, so don't wait until the price goes up.
Parents should send a sack lunch with their little painter(s), all other supplies will be provided.
• Time: 8:30 AM - 1:30 PM each day
• Recommended for children 6 - 12 years
• Prices
• $150/child during early bird registration. Early bird pricing ends 5/6/18.
• $200/week per child for the summer camp beginning 5/6/18
• $30/day per child for the painting only beginning 5/6/18.
The Little Brushes summer kids' camps being offered this year are:
June 11 - 15 – Celebrate the Holidays (https://www.pinotspalette.com/lavista/event/214455)
July 16 - 20 – Summer Fun (https://www.pinotspalette.com/lavista/event/214461)
For all our little brushes programs cancellation/refund policy are as follows:
NO REFUND after JUNE 1st, 2018