Who is Mother's Day For?
According to Wikipedia (so it's gotta be true!) Mother's Day was created in 1868, by Anna Jarvis, establish a "Mother's Friendship Day", the purpose of which was "to reunite families that had been divided during the Civil War."
Ironically, Anna Jarvis didn't like the commercialization of Mother's Day. She didn't like that people were too lazy to send a handwritten personalized note and would buy a card. She even said she wished she hadn't created the day.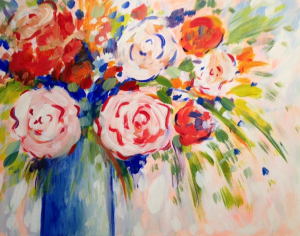 With the modern family there could be over 5 moms to celebrate. Mom, Step-Mom, Grandma, Great-Grandma, Mother-in-law. And guess who is in charge of all that… I'll tell you, it's not Dad, that's for sure.
Who do you spend the day with? Your Mom? Your husbands Mom? Everyone? No one? And why is it that we don't worry about this for Father's Day?
We try to get everyone together for brunch. I make sure to start with the wine before we sit down. That makes Mother's Day great for me. I plan to paint too. Not sure if I'll go alone or bring one of my many moms. If I can squeeze in a nap, then it might be the best day ever!