5 Drinks for the Perfect Summer
I love hanging by the pool with friends and have a few drinks. I'm not a big cocktail drinker and my favorite is red wine. Sadly, red wine is not so great when the temps are 100+ (joys of living in Dallas).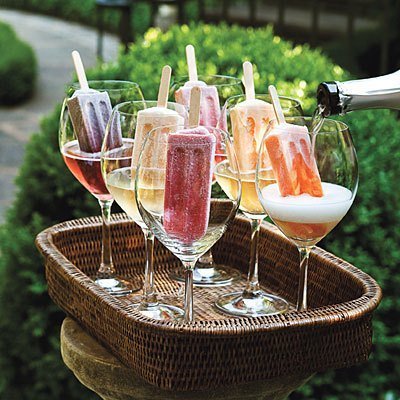 Here are 5 drinks that are perfect for summer:
1. Wine pops from Social Ice. What's a wine pop or winesicle? It's a Popsicle made from WINE!!! Why should the kids have all the fun? Social Ice started selling wine pops and they were a huge hit. Pinot's Palette – Lakewood has had them at some of our painting classes to make the event that much more fun! You can get these all over town. Check Social Ice out at
http://socialice.com
to find out where.
2. Sangria. You can't go wrong with sangria. It normally is made with red wine and fruit (and brandy) but I like to mix it up a bit and use white wine and peaches. Throw in some Sprite and it's so refreshing.
3. Popsicles in Prosecco – I saw this on Pinterest or Instagram but what a great idea. You need to use Popsicles with real fruit. I think Steel City Pops
http://steelcitypops.com
would be the perfect place to get the pop. It's super easy to make. Put popsicle in a glass and pour your favorite Prosecco on top!
4. Beerita – This is the perfect drink when you don't have a frozen Marg Machine hanging around. Here's the recipe: 12 oz Limeade, 12 oz Vodka, 12 oz water and 2 beers. Double or triple for big parties. It's so delicious and sneaky strong so be careful!
5. Mojito Cubes – Ice cubes made with Mojito ingredients. Easy to make: combine rum, mint and lemon-lime soda. Freeze in an ice cube tray. Add to any drink!