5 Easy Steps to Raise Money
Schools, PTAs, Rescue Groups, Children's Charities and so many more have already raised money through us. Book your next fundraising event and let's Paint it Forward!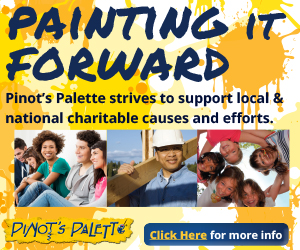 1. Contact us about your 503(c) organization and let us know you want to do a Painting It Forward class. What's Painting It Forward – It's our way of saying fundraising.
2. Pick a painting, date and time that works for you. You can do a private event or choose a public class. We'll set up the class and give you a link for your friends to register.
3. Invite all your friends, family, fans and give them this class link. Make sure to put it on all social media outlets you have (newsletter, Facebook, Instagram, Twitter). Some groups post the class on their local on-line news outlet. The more you promote, the more money you'll make.
4. Come to class with all your friends. Have the best time ever painting a masterpiece.
5. Collect your money!
Find out more by emailing us a Lakewood@pinotspalette.com.