5 Tips on Hanging Your Painting
You made a beautiful piece of art. Now you need to hang it! Here are some tips to help you out.
1. If you have several pieces to hang, place sure to lay them out on the floor to get an idea of spacing. I like to be really random so it hides any mistakes.
2. Keep the distance between the paintings the same. Decide on the distance before you start.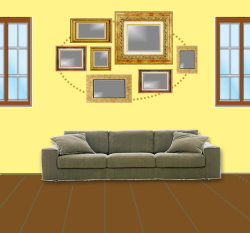 3. Another idea is to cut out paper to match the size of your art and put the template on the wall. Then hang art over paper. That seems like a lot of work.
4. Don't hang too high. You want the top of the piece to be about 5 inches above eye-level. Most people hang their art too high.
5. To really make the art pop, get proper lighting to show case the work.