Upcycle Your Canvas
What to do with all of my fantastic paintings?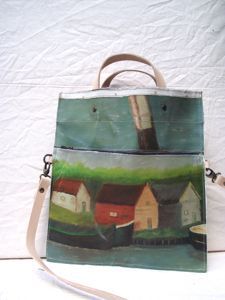 1. Paint over your canvas and use it again for another painting. There is a product called Gesso which is thick and will cover what you currently have. Gessoing and painting again will give texture and is an affordable way to let your kids paint over and over again.
2. Use Mod-podge and newspaper or sheet music and use card stock letters of your favorite phrase.
3. If the painting is real colorful. Take the card stock letter and stick to the canvas. Then spray paint with black or some other dark color. Remove the letters and you'll have beautiful colors showing through where the letters were.
4. If you're really crafty – make a purse, wallet, apron or pillow case. Most canvases are pretty easy to take off the frame. Check out Pinterest for sewing patterns.
Good luck and let us know what you did.