Butter Beer
Where are the magical movie fans??? Since we have a couple of crazy popular paintings in honor of the movie in our library, we decided to find a non-alcoholic recipe for you and kids to drink if you ever have a magical movie theme night or if you want to make some for fun! The classic, Butter Beer!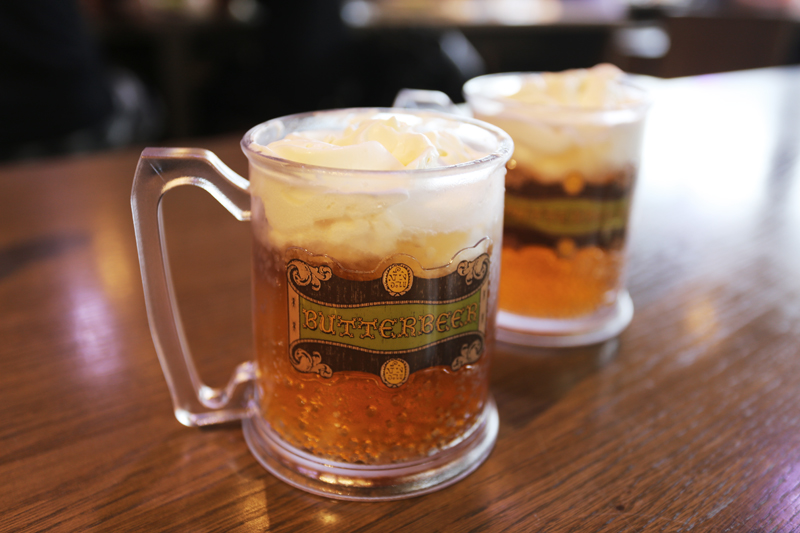 Butter Beer Recipe:
Ingredients –
For the Butter Beer:
1 12 oz bottle of chilled cream soda
1 tsp imitation butter flavor
OPTIONAL: 1 oz light rum per serving for adults
For the Foam:
2 cups heavy whipping cream
6 tbs sugar
2 1/2 tsp vanilla
2 tsp imitation butter flavoring
Directions:
In a large bowl, whip the heavy cream on medium high speed for 3-4 min or until it starts to thicken. Add the sugar and continue whipping until soft peaks begin to form (another 3-4 min). Stir in the vanilla and imitation butter flavoring. Whip for another 30 sec. Next, make the Butter Beer; set out a 16 oz glass. Place the imitation butter flavoring in the glass and then pour over with the cream soda. Lightly stir. Place a generous heap of the foam on top of the poured Butter Beer. ENJOY!
Now I know it may be tempting but under NO circumstances do you use a straw to drink Butter Beer. The taste really comes out when you take a swig and the soda mixes with the foam. Plus, the best part about drinking Butter Beer is the foam mustache everyone ends up with after taking a sip!
Enter your contact info and request details below, and we will contact you with details about your private party!