She Said Yes!
Valentines is coming, but love was in the air in December at Pinot's Palette – Kingwood. We had our very first marriage proposal at the studio …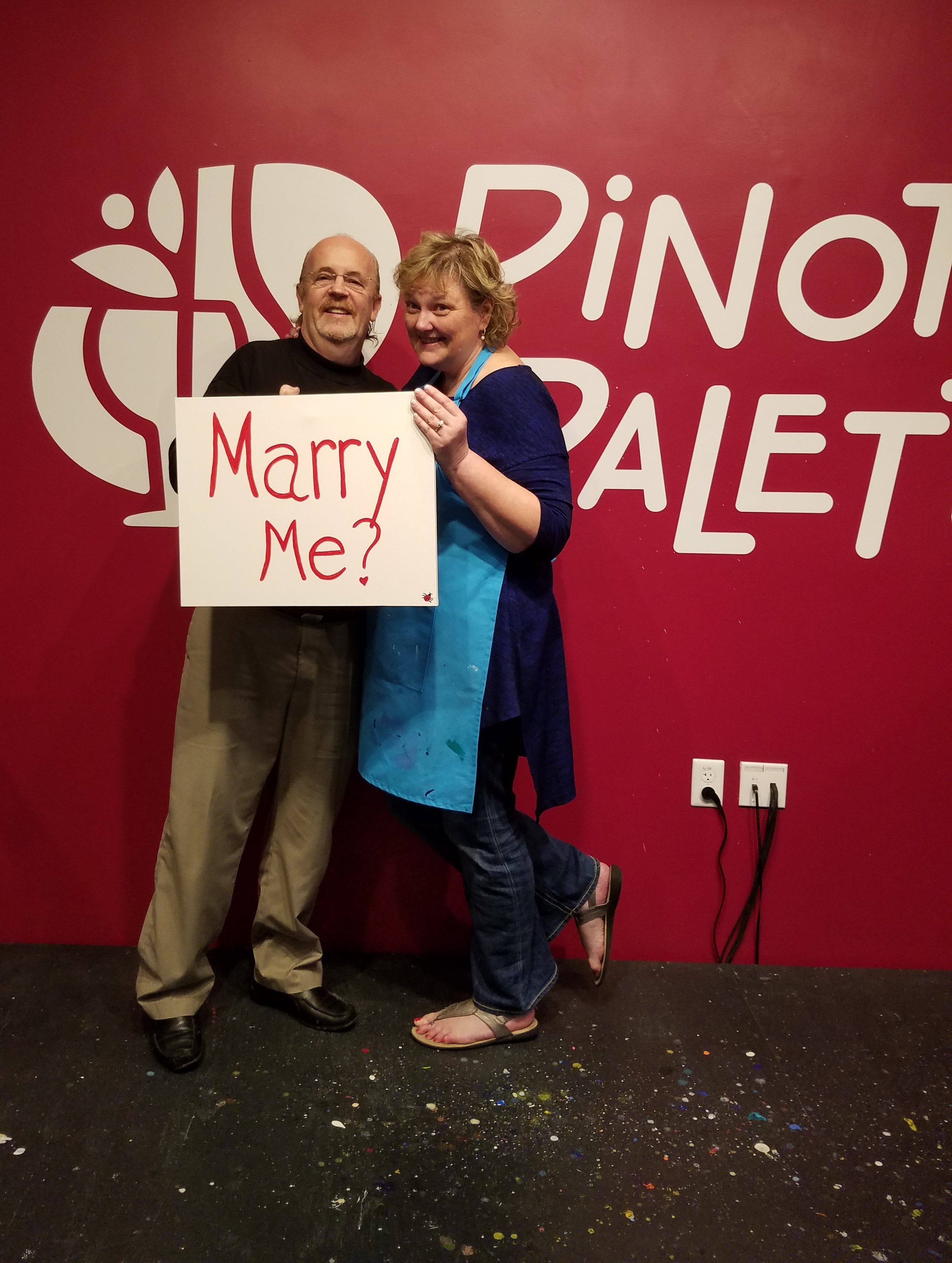 So here's how it happened … Chris Meredith and his soon-to-be-step-daughter, Claire McVey, stepped into the studio to attend our Thursday night painting event, Elf, on December 22nd. They arrived at about 6:30 p.m. for the 7:00 p.m. event and told us that Joan McVey would be arriving in about 10 minutes … TEN MINUTES! Chris and Claire had hatched a plan on the drive over that Chris would propose to Joan at Pinot's that evening and they wanted to know how we could help. Most of Joan's children were attending the class and Joan's son would be secretly waiting outside in the car.
So we jumped into action! We quickly painted a "Marry Me?" canvas and tucked it behind the sample painting up front. The party went on like a usual event for us with Joan suspecting nothing. At the end of the event, we called everyone up on stage for the group picture like we always do … only we pulled a little sleight of hand and swapped Chris' painting for the "Marry Me?" canvas when they went to take a family group picture. I think Claire had to actually ask her mother what was wrong with Chris' painting to get her to look at it!
She laughed, cried, and … of course … said yes to Chris' sweet request for Joan to marry him. Then he pulled out a BEAUTIFUL ring from his pocket to put on her finger. When Joan saw the ring, she said, "OH, YES!!!" It was so adorable and everyone cheered and laughed.
Thank you again, Chris and Joan, for letting us be a small part of this very special day in your life.
At Pinot's Palette we Paint. Drink. and Have Fun. … but we also make memories that last a lifetime.
What memories will YOU make at Pinot's Palette? Come join us soon and make some special memories of your own! Check out our calendar of upcoming events and make plans TODAY.
Enter your contact info and request details below, and we will contact you with details about your private party!