Meet The Artist - Josh Wright
I'm so excited to introduce you to our artist, Josh Wright. He's a ton of crazy wrapped in a ball of laughs, and the Kingwood studio was blessed to find him! Take a minute to learn a little more about him ... then come and meet him in person!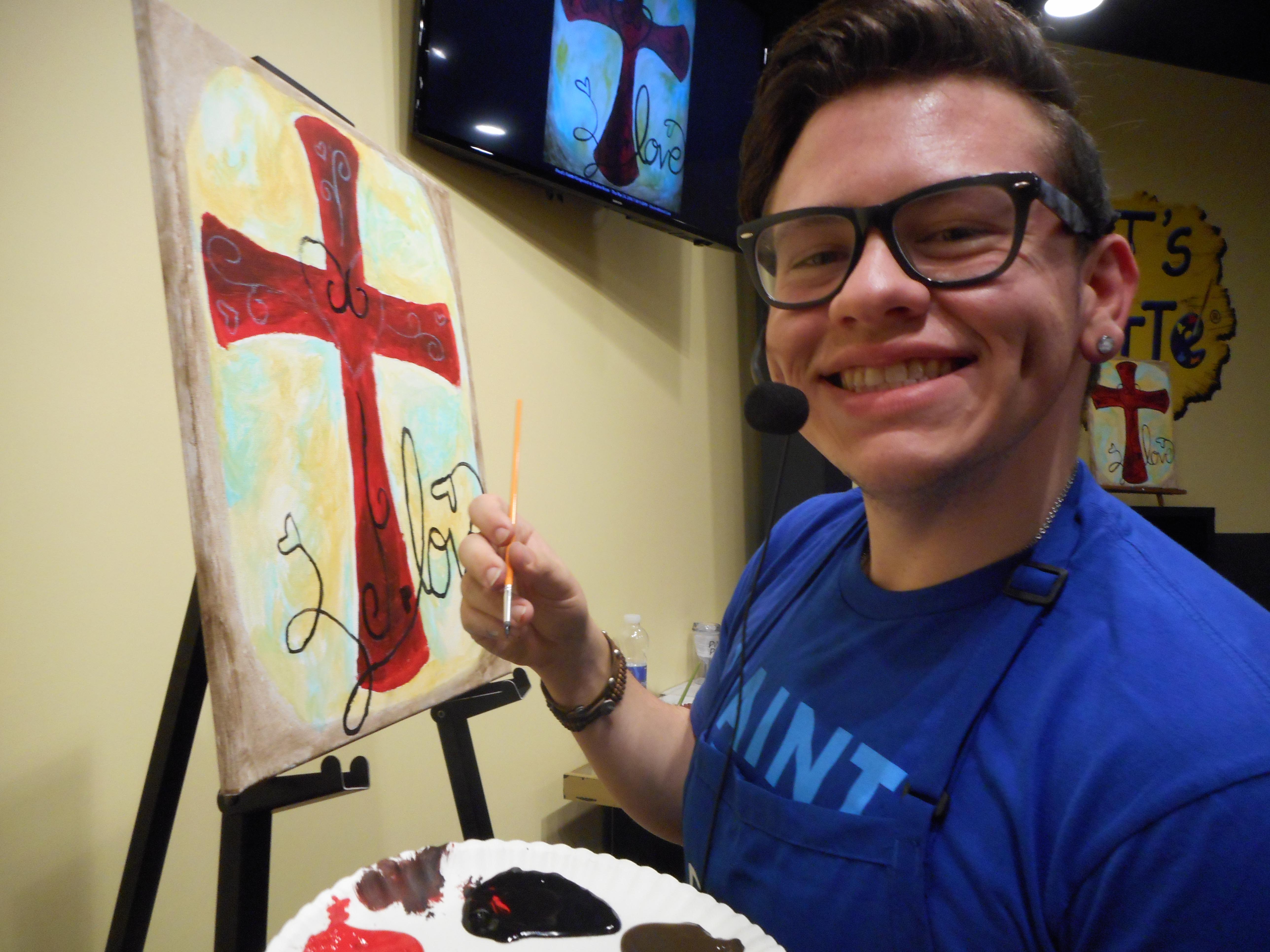 NAME: Josh Wright
WHERE ARE YOU FROM?
Born and raised in Montgomery, TX. It's located in BFE, about an hour and a half North of Houston. I graduated High School there in 2008. Since then I've lived in Conroe, The Woodlands, Kingwood, and now in The Heights in Houston! I've been slowly making my way there. Making my way Downtown, if you will. Walking fast. Faces pass, and I'm home bound DA NA NA NA NA NA NAAAA
WHEN DID YOU DECIDE YOU WANTED TO BE AN ARTIST?
I can remember being drawn to art for as far as I can remember. My grandma had a little studio in her office where she would sculpt figures, and fire them in a kiln, then we would paint them together. I was always coloring, drawing, or doodling as a kid. My mother still has a binder filled with 100's of cartoon characters I drew when I was young.
WHERE AND WHAT DID YOU STUDY?
I have a hard time making up my mind, and as such, never really found something I could commit to for forever. During High School I took every single art elective available. My senior year schedule had 3 of my 8 total courses as an art class. I attended two years at Lonestar College in The Woodlands, and took a few electives there as well. I also studied nutrition and fitness at The Cooper Institute in Dallas, and got to meet the founder of aerobics, Dr. Cooper! I used to weigh about 145 lbs heavier than what I am now, so I'd like to think I learned quite a bit :)
WHAT IS THE INSPIRATION FOR YOUR PERSONAL ARTWORK?
My personal art is mostly black and white. My favorite medium is pencil and charcoal. I love to blackout a big sheet of paper with charcoal, then erase the details until it forms a picture. I love painting, oil pastel, and Prisma pencil as well, but there is something so simple and pure about black and white that I have always been drawn to. It's really calming whenever I'm shading in a piece I'm working on using pencil, and one of the only times my mind is just calm and focused.
WHY ARE YOU EXCITED TO BE A PART OF THE PINOT'S PALETTE TEAM?
I've been so pumped about being a part of the Pinots team since day one! I've had many friends and family commission me for pieces of work, but this is my first legit job as an artist! Our team is lots of fun, and it never feels like going to work.
WHAT'S YOUR FAVORITE PINOT'S PALETTE PAINTING?
My favorite Pinots Palette painting so far has been "Boho Daze." It's a big flower with some cool and funky boho designs in all of the background. Then there is a shiny gold/copper finish that makes it all pop. Lots of fun to instruct!
WHAT'S YOUR FAVORITE THING TO DO IN HOUSTON?
My favorite thing to do in Houston is try my best to hide the fact that I'm usually sweating under whatever I'm wearing. I work out with Camp Gladiator, which is an outdoor fitness camp. CG STRONG! Super fun if you've never tried it, check us out! So- between two jobs, and boot camp I don't have a huge social life. I can usually be found hanging out with friends in Downtown with a cold drink in my hand, or eating somewhere delicious! (The fat kid in me is still strong.) Houston's nightlife is A TON of fun!!! I also love going to all of the new exhibits in the museums! During cooler months I love being outside, going to the park, and playing sports with friends, outdoor rock climbing, camping, or just hanging out in the cold weather and enjoying the lack of butt sweat! :)
WHAT WAS THE LAST BOOK YOU READ? MOVIE WATCHED?
The last book I read was called "Another Day" by David Levithan, a sequel to his book "Every Day". Amazing books if you're looking for a new read. It's main character, A, wakes up each day in a different person's body, and must live a day in their life, with their memories. The last movie I watched was Finding Dory, and I died along with the rest of the world because baby Dory is seriously the cutest thing that I've ever seen...like how did they do that?
DESCRIBE YOURSELF IN NO MORE THAN THREE WORDS.
I'm a rebel
Enter your contact info and request details below, and we will contact you with details about your private party!