Little Brushes Summer Art Week 3 - Under the Sea!
Katy - Little Brushes Camp – June 22-26, 2020
Under the Sea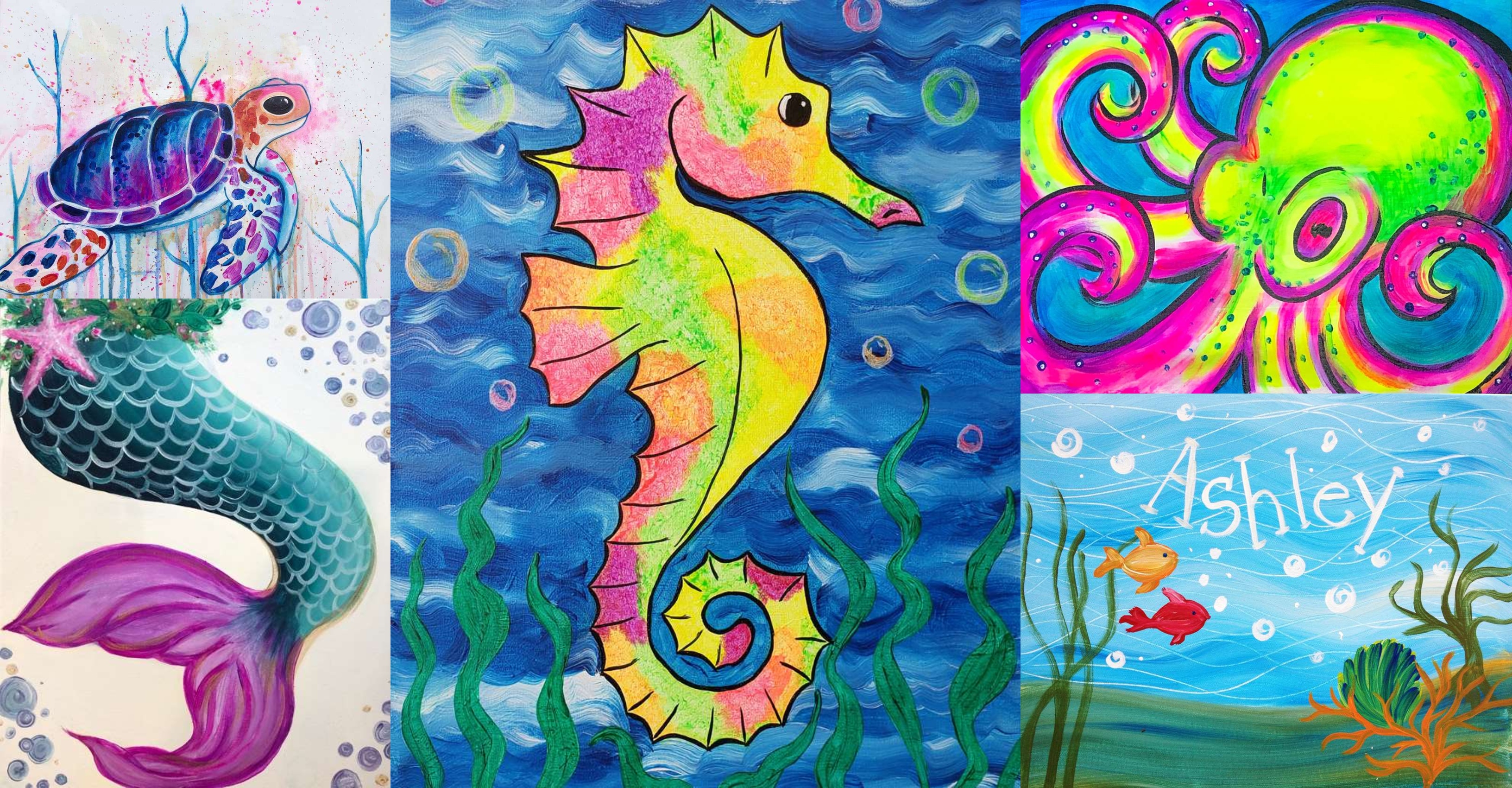 $50/session for 10am-2pm (Painting and Craft) or $30/session to paint just the two-hour painting from 10am - 12pm. Please enter the code PAINTONLY20 to take $20 off the full day camp to get the PAINTING ONLY price. Parents and sitters can paint, too!
Check out our event calendar to see the full week of paintings. Kids can paint just the painting from 10:00 AM - 12:00 PM or bring their lunch and stay for an afternoon of crafts until 2:00 PM.
(AGES 6 and up) Looking for a fun and creative outlet for your little artist? Then Little Brushes has exactly what you are looking for! At Little Brushes we offer a fun-filled party atmosphere where your little artists can have a blast creating their own masterpieces. From painting to crafting and everything in between Little Brushes fosters a friendly and collaborative environment, providing everything your little artist will need to bring out their creative spirit. Bring your lunch and we'll supply drinks and a snack. Come one day or every day this week, we'll provide the FUN! Limited to 16 seats.
Class Description:
***DAY CLASS*** Each day we will feature one of our paintings in the morning, break for lunch and then continue into the afternoon with a unique craft. We'll have different activities each day, so you can sign up for one day, or come all week! Little Brushes will be lead by professional artists specialized in children's art education.
WHAT'S PROVIDED: All art supplies, aprons and canvases.
FOOD: Please bring a sack lunch (if staying for full session), beverage and snack of choice.
Recommended for children that have completed Kindergarten.
Register for individual says here:
Serene Sea Turtle
Monday, June 22 10:00 - 2:00PM -
https://www..../event/414258
Seahorse Surprise
Tuesday, June 23 10:00 - 2:00PM -
https://www..../event/414257
Ocean Adventure
Wednesday, June 24 10:00 - 2:00PM -
https://www..../event/414261
Making Waves
Thursday, June 25 10:00 - 2:00PM -
https://www..../event/414259
Octoglow
Friday, June 26 10:00 - 2:00PM -
https://www..../event/414260