Holiday Parties for the 2017 Holiday Season
The holiday season is just around the corner and we at Pinot's Palette Jonesboro are beyond excited! We are looking forward to cooler weather, the scent of pine and peppermint, and most of all our holiday parties! We LOVE the holiday season and our customers. Every year we play host to family gatherings, social clubs, workplace parties, and so much more! And every year, we have more and more parties. Below you will see some of our FAQ's and also how to book. We recommending booking as soon as possible because dates do fill up fast!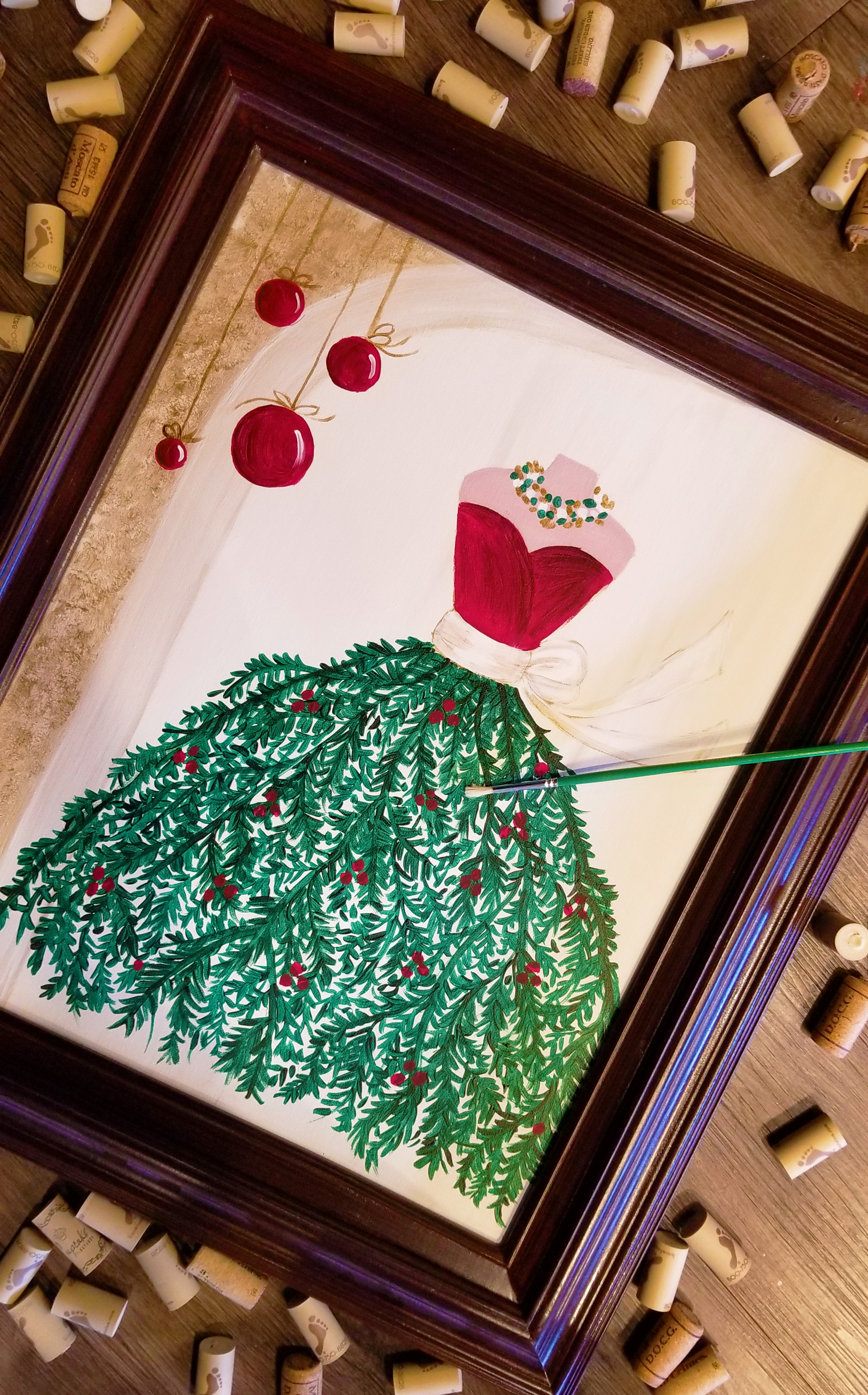 FAQ's
COST OR PRICING OF EVENTS:
$175 REFUNDABLE DEPOSIT (Please note: We need a weeks notice to cancel a private party and get a full refund. If you have under our minimum head count all missing seats will come out of the deposit. If you reschedule within 5 days of the party, we charge a $50 rescheduling fee to move the party.)
For Private Party Room (seats up to 16) - We have a 10 person minimum or a $350 minimum
Main Studio on a Peak Night or Day (Peak Times are Thursday -Saturday nights from 5-10PM; Saturday mornings from 12-2PM) - We have a 30 person minimum or $1,050 minimum. Deposit will be $350 to reserve the date and time for these larger parties
Main Studio on Off Night - 17 person minimum or $595 minimum. Deposit is the normal $175.
*Main Room seats up to 48 people
Cost per person: 2 hour session is $35 per painter or 3 hour session is $45 per painter. Cost includes a 30-minute pre and post party. Class will begin promptly at the starting time.
CAN CHILDREN COME:
Yes! We are a private club and we allow children. We however recommend not bringing children under the age of 5 to events.
IS THE WINE INCLUDED:
HAHA! No! The state of Arkansas does not allow us to give away free Alcohol. We do have a cash bar with wine, beer, mixed beverages but also several non-alcoholic selections
DO YOU CATER: Yes, we do! Just send us an email at jonesboro@pinotspalette.com and we will be more than happy to send you our menu
CAN WE BRING OUR OWN WINE:
No, we are in a dry county and that is illegal.
CAN WE BRING OUR OWN FOOD:
Yes, not a problem. We will have a bartender staffed and our kitchen is always open, though.
WHAT DATES ARE AVAILABLE: Our parties are booked on a first come, first serve basis. The person who puts down the deposit first, gets dibs on time and date. Please contact the studio if you have a date in mind or if you want to check availability.
WHAT IF I HAVE A FAVORITE ARTIST, CAN THEY TEACH MY CLASS: Let us know and we will do everything we can to make that happen! Our artists LOVE when they are requested for events!
HOW DO I SET UP MY PARTY: Call the studio (870-520-6221) or set up on our website,
https://www....rivate-events
WHAT PAINTINGS CAN I CHOOSE: Check out our full library at:
https://www....nting-library