4 Benefits of Painting Classes for Your Kids
We all know art is food for the soul, but did you know that children who take painting classes experience real benefits from it? Art helps with psychological, mental and emotional development and enhances the sense of independence and creativity in a child, helping him reach its real potential.
Here are four benefits of painting classes for your kids: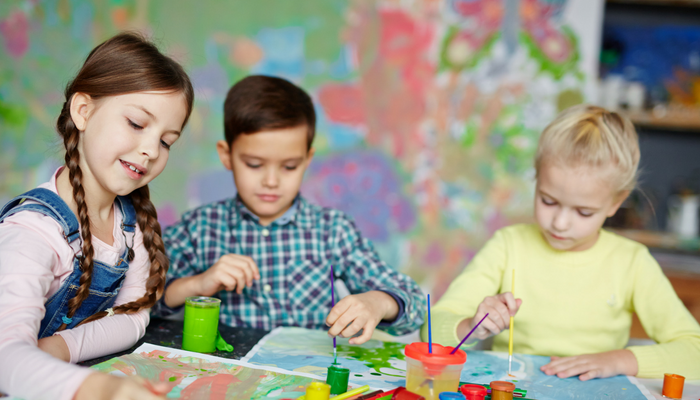 Self Esteem
By learning to paint, a child gains a skill to be proud of. It gives the child a foundation to confidently see the world from a definite point of view because they've accomplished a goal. The responses and praises children get from others regarding their work boost their self-confidence. Even children with no excessive talent can learn how to paint because when it comes to arts, there is no right or wrong. Everyone's artistic style of expressing themselves is appreciated.
When children work with other children and adults during the painting class, the interaction itself boosts confidence and gives them plenty of social skills that are going to help them in various aspects of life.
Promoting Creativity
Painting gives children the ability to process the world that surrounds them and to express their interpretations of life creatively. No two children will paint the same picture, given the same topic. As we already said, in art, there is no right or wrong. No matter how different from the rest, your child's opinion and expression will be seen as unique and creative, and as such it will be highly appreciated in the painting class.
Painting promotes creativity, uniqueness, and thinking outside the box. Once learned, these skills easily transfer to all aspect of life for any child.
Patience and Determination
Children who practice art learn how hard it is to achieve slight progress and they also learn how much time little progress takes. The only way to master painting is through continuous practice and learning. Determination and patience are both skills children learn when they take painting classes.
In today's competitive world when everyone is required to stay patient and keep pushing even when giving up seems like the most comfortable choice, equipping your children with patience and determination is the best thing you can do for them.
Developmental Benefits
Creative activities, like painting, have a substantial impact on the development of the brain. Our brain's right side is responsible for emotional and creative responses, and the left side focuses on logic and analytical processes. At a painting class, children use both sides of their brain. Painting is creating something out of nothing in a creative way, so both sides of the brain need to work all the time which helps make the necessary connection between the two sides.
Encourage your child to attend a painting class to help them reach their real potential. Expressing themselves through painting helps children develop a sharp brain, and gives them various critical-thinking skills. It teaches them all about determination and patience, and it's so much fun and fulfilling!