Virtual Classes: Quick Innovation Plan in the Midst of a Pandemic
Virtual Classes Are THE "New Norm"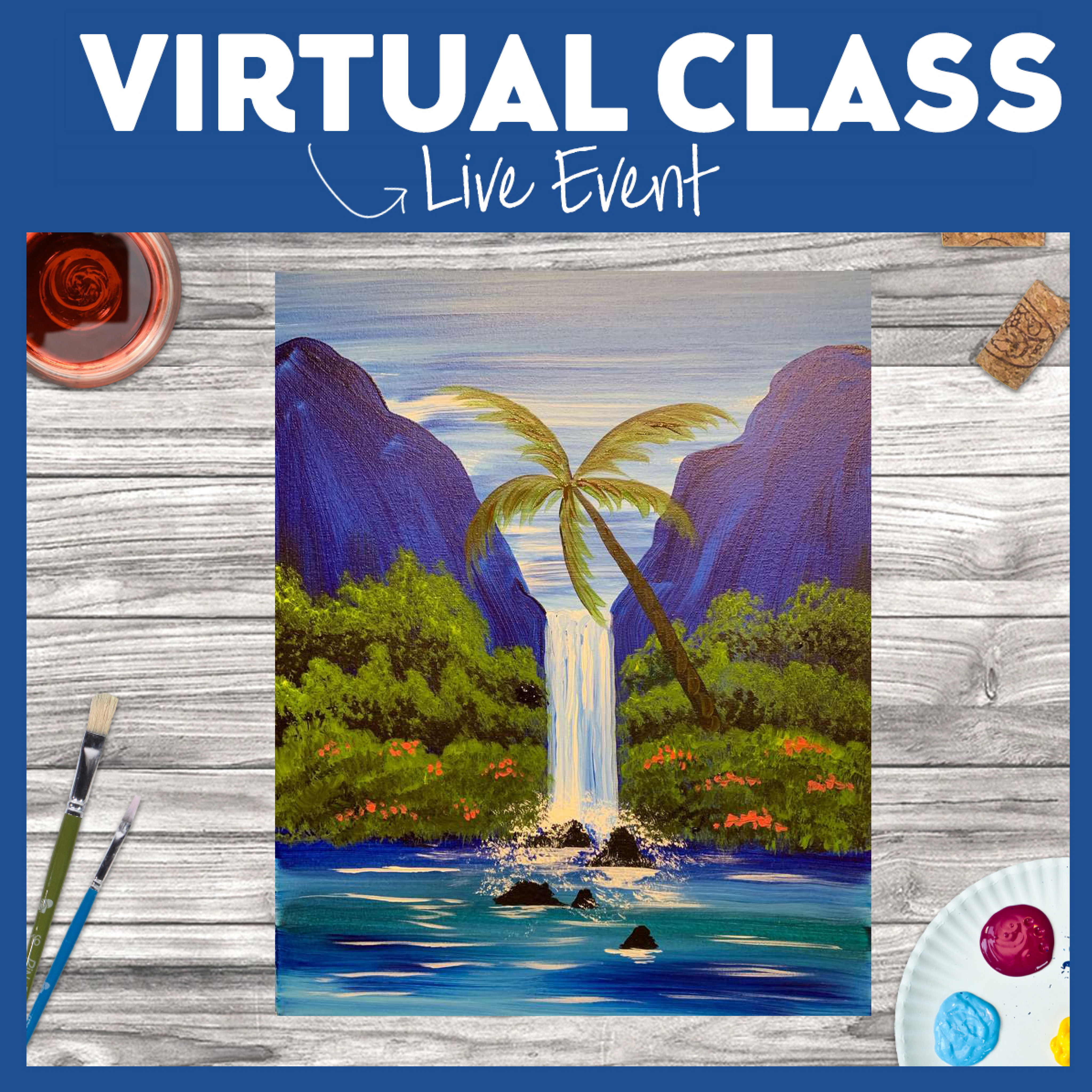 Huntington Beach, CA-
It was March 16, 2020 and the employees of Pinot's Palette were preparing for a 50th Birthday Bash for the Owner of their beloved establishment. Drink specials were prepared, a specialty painting was created and Soiree du Roc were ready to rock with the first live rock band performance in the three-year old venue.
Located in the back end of the Bella Terra shopping center, foot traffic had been hard to come by of late and today was no different. The COVID-19 pandemic was reaching its apex in the OC and the Owner was facing the likelihood of business closure and the cancellation of his studio's big launch into the foray of live music entertainment.
"We were on such a roll lately, really hitting our stride", says David Fisher, franchise owner of the premier "Paint and Sip" studio in Orange County. "Five-straight weekends of class sellouts and now this...it's just devastating". After all, who could blame him? Who could blame any small business owner for that matter? One's livelihood, financial future and the employment of seven loyal and dedicated employees were all on the line. And then came the innovation plan.
Dependent fully on the two remaining full-time staff members he had left after closing the studio's operations and cutting the hours of his remaining staff, decisions had to be made. With the help and guidance from his studio managers, Alex Child and Camielle Thompson a plan was forged and the original business model temporarily scrapped. The Paint and Sip venue which was most recently home to a nightly sellout of 60-plus guests was now under the transformation from an in-studio event venue to an at-home virtual class provider. The group was determined to bring its step-by-step art instruction classes and creativity into the homes of their guests. Kids Paint Kits were even created. "We don't want to forget about the little Picassos out there."
"We decided early on that when we had the capability to remain open in a minimal capacity, we were going to make it work and we weren't giving up", stated the Owner. "My studio managers and eleven-year old son would not allow me to accept defeat. The only remaining thing to do was trust in ourselves and most importantly trust in God", he added. David then stated, "Alex and Camielle said it every day for about the first few weeks after the closure that "we had to keep going to continue to bring some sort of normalcy, joy and hope into people's living rooms".
It was the reminder and nudge he needed to keep moving forward.
And so they did. The three of them.
After working eighteen consecutive days, the remaining group of three were exhausted and decided it was time to take a break. After enjoying a few days off and twenty-five days after their temporary closure on March 17, 2020, the group launched their first virtual class on April 11, 2020. With a newly designed Take-Home Paint Kit, legally prepared pre-packaged Drink Kits, new workstations; and new systems implemented, the group was prepared to dip into the world of live streaming events.
"It's not just for 'gamers' anymore...we are going to bring the Paint and Sip experience into the homes of our long-time Guests during this crisis...and even after we can re-open", the owner stated. "Virtual classes are here to stay and they're not going anywhere...we're going to keep the concept and continue to build on it."
The last few weeks have been spent preparing to re-open and implementing the safety restrictions set forth by the Health Department and the State of California. "We'll be ready", the Owner said, then added, "we understand the importance of providing our guests with a safe and sanitized environment. We will be ready, because that's how we roll."
Perhaps this comment by Beth D, a first-time guest and virtual class attendee said it best:
"I was just part of the virtual painting class tonight. I had such a wonderful time!!! I can say how much I loved this. A bright spot to my week!! Please let your staff know how much fun I had. My sister and I FaceTimed while we painted together it was awesome!!! Thank you again and I will recommend this to anyone who will listen to me!!! Seriously, it made my whole day!!!"
The Owner then summed up the interview with this comment: "I owe these kinds of guest responses not just to Alex and Camielle but to my entire staff who have helped me get to this point. I'm not here today if it's not for my staff, our regulars and even volunteers and friends of our staff who came in just to lend a hand in whatever field of expertise they knew. They all wanted to help. They all want us to make it. And for that, I am humbled and beyond grateful. This was truly God at work."
You can catch Pinot's Palette of Huntington Beach in action and online via a Virtual Class by visiting them at: www.pinotspalette.com/huntingtonbeach
Once on the Home Page, click on the Event Calendar and find your next at-home date night or family night. Please continue to support small businesses throughout the COVID pandemic.