Harry Potter and Butter Beer!
Wizardly Butterbeer! Get the recipe here!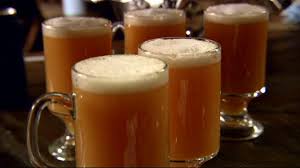 Whether you are joining us at our upscale BYOB studio at Pinot's Palette Glen Mills to paint our tribute "The Painting That Shall Not Be Named" or watching your favorite Potter movie at home, your wizardly whims aren't complete without butter beer!
So bring it to our paint and sip studio or make it at home! Here's the recipe:
Butterbeer
Servings: 4
1 cup light or dark brown sugar
2 tablespoons water
6 tablespoon butter
1/2 teaspoon salt
1/2 teaspoon cider vinegar
3/4 cup heavy cream, divided
1/2 teaspoon rum extract
Four 12-ounce bottles cream soda
In a small saucepan over medium, combine the brown sugar and water. Bring to a gentle boil and cook, stirring often, until the mixture reads 240 F on a candy thermometer.
Stir in the butter, salt, vinegar and 1/4 heavy cream. Set aside to cool to room temperature.
Once the mixture has cooled, stir in the rum extract.
In a medium bowl, combine 2 tablespoons of the brown sugar mixture and the remaining 1/2 cup of heavy cream. Use an electric mixer to beat until just thickened, but not completely whipped, about 2 to 3 minutes.
To serve, divide the brown sugar mixture between 4 tall glasses (about 1/4 cup for each glass). Add 1/4 cup of cream soda to each glass, then stir to combine. Fill each glass nearly to the top with additional cream soda, then spoon the whipped topping over each.
Enter your contact info and request details below, and we will contact you with details about your private party!