This Week At #PinotGarland
We have so many exciting events going on this week! Come paint and sip with us!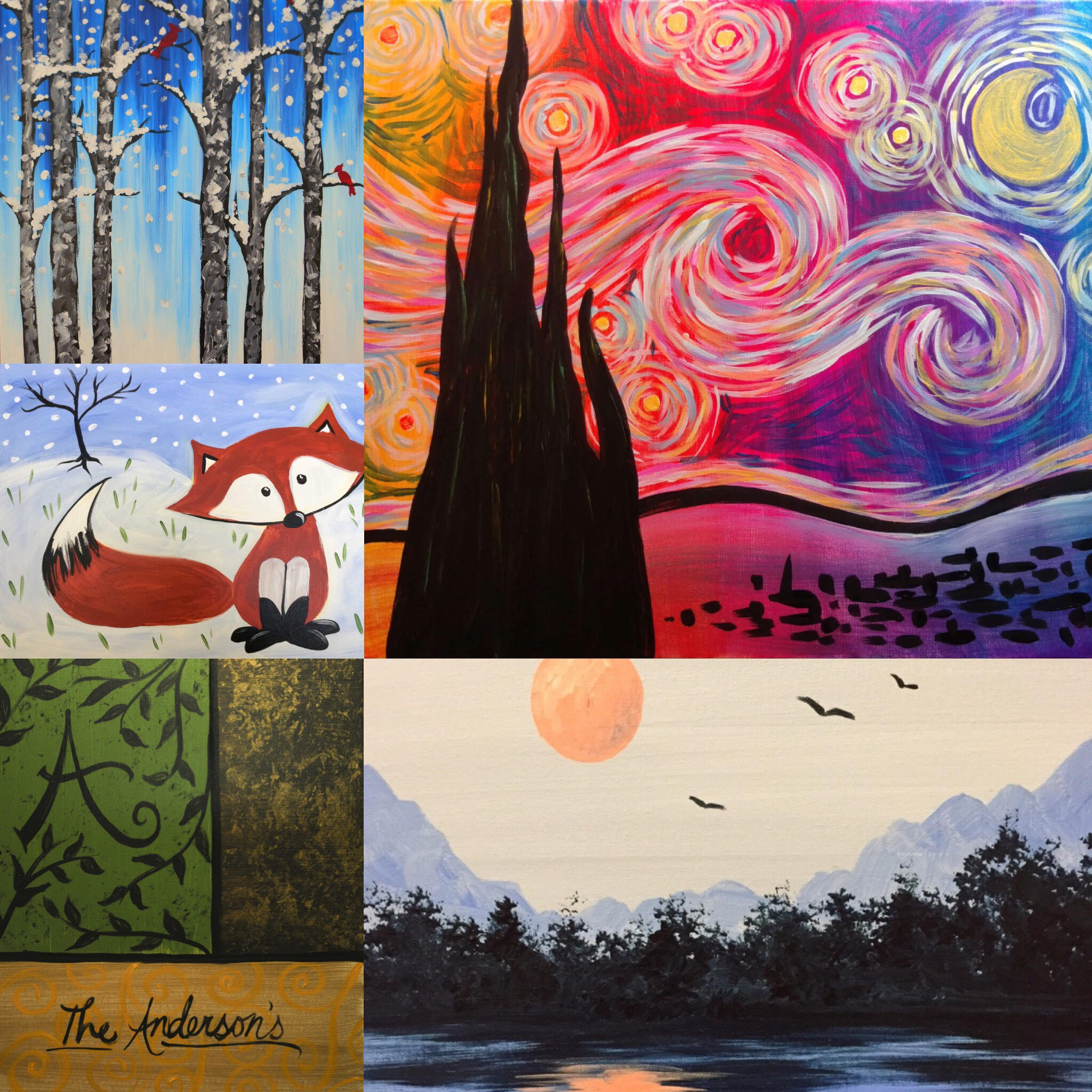 THURSDAY, JANUARY 12TH, 7:30-9:30PM:
"Let it Snow"
An absolutely beautiful painting for those of you who are missing last week's weather! Bring your snacks and drinks and friends and join our wonderful artist Jocy as she walks you through a winter wonderland!
FRIDAY, JANUARY 13TH, 8:00-10:00PM:
"Psychedelic Starry Night"
My personal favorite this week! Since our very first black light painting party I have been wanting to see what a black light starry night would look like....and Psychedelic Starry Night is exactly what I envisioned! Every single color used is one of our bright, fluorescent paints that glows magnificently in the black light and then we finish it off with a beautiful silhouette of Van Gogh's famous cypress tree. Our party guests come dressed in white and neon so they can shine alongside their painting. This is a truly unique experience that you will NOT want to miss!!
SATURDAY, JANUARY 14TH, 1:00-3:00PM:
"Winter Fox"
Winter Fox has been one of our biggest hits with our younger painters, so we wanted to bring it back for another Little Brushes event this weekend! The best part about it? Just drop off the kids with us and head over to your favorite store or restaurant in the extensive Firewheel Town Center! Or if you'd rather stay with the little one, join them for a painting for the same price of $25! Either way it is sure to be a fun-filled afternoon!
SATURDAY, JANUARY 14TH, 7:00-9:00PM:
"Family Name Decor"
This gorgeous painting has already proven to be quite popular. It is designed to be customized with your own family name/initial. Green and gold not your thing? That's okay! We have an entire cart of different paint colors! Feel free to choose colors that will match your walls at home!
SUNDAY, JANUARY 15TH, 2:00-4:00PM:
"Cool Summer Night"
Cool Summer Night may look like it's for advanced painters....but our artists make it so easy! For this class we invite painters ages 7 and up to join us for a relaxing afternoon (with a little bit of dancing probably).
Which one will you be painting?
Share Reserve Your Seat Now! | Follow Us On Facebook For More Updates!