Inexpensive Company Get Together Ideas
The holidays are done, but you still might be looking for ways to build business coworker camaraderie and team work through social events. Maybe you want to implement a way to celebrate special events such as retirements, birthdays, deadline completions, or promotions? There are many ways to accomplish that task, some more costly than others. If you are managing employee morale and teamwork to an annual budget number, you must ask yourself if the budget should be spent on one big activity, or on several smaller expense activities throughout the year. Here are some ideas on how to manage that process.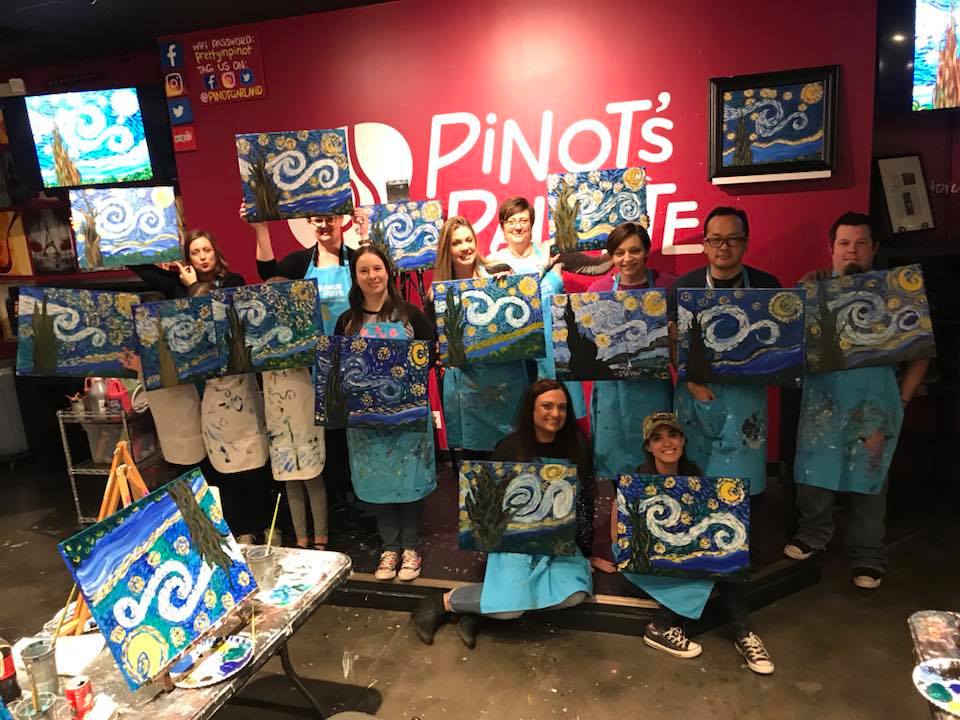 Establish a social committee
This group of employees can manage the social events and corresponding budget. It is beneficial to have a group of employees from your team to help make planning decisions. Speak with coworkers who may want to assist, and form a social planning committee. The group can brainstorm and come up with suggestions that will share responsibility for organizational tasks and will help make decisions that benefit the majority of people.
Choose a venue
Depending on your activity and budget, the event venue can be held inexpensively in current office space. If you are looking to do something that feels less business-like, take the team to an offsite location. The location could be a restaurant, or corporate meeting room in a hotel. Or it could be an special event center like a clue room or arcade center. Pinot's Palette offers a great opportunity to paint and sip beverages. Doing an activity together, like at art class, can create bonding memories and enhance team work within your department.
Choose music
Music certainly adds energy to any room or event. A disc jockey is always fun to have, but can be expensive. Another option is to rent the equipment, and have an employee select and manage the play list. Or hook up a great play list to a speaker, and listen to preset music.
Awards or Gifts
If you offer gifts from the company, something symbolic will do just fine. But maybe it would be even better to organize a Secret Santa, where employees can make gifts to each other. You can offer a raffle, or fun awards. If you choose a paint and sip activity, each person would take home their painting, and there would be no need for an added 'gift'.
Share twist up your corporate event with painting classes in Rowlette | corporate event birthday party places in Plano TX