Best Date Night Ideas Near Garland
Working full time and finding time to think of new date night ideas can be, well, difficult. Sometimes it's easiest to just bunker down with Netflix and binge watch your favorite shows. No judgement, we all do it! Just don't forget date nights are an important part of a relationship and to make sure you're finding new ways to connect and mix it up with your partner. Trust us, she will thank you later. See below for 5 date night ideas you can try if you live in Garland, Wylie, Plano, Richardson, Sachse, Murphy, or Rowlett.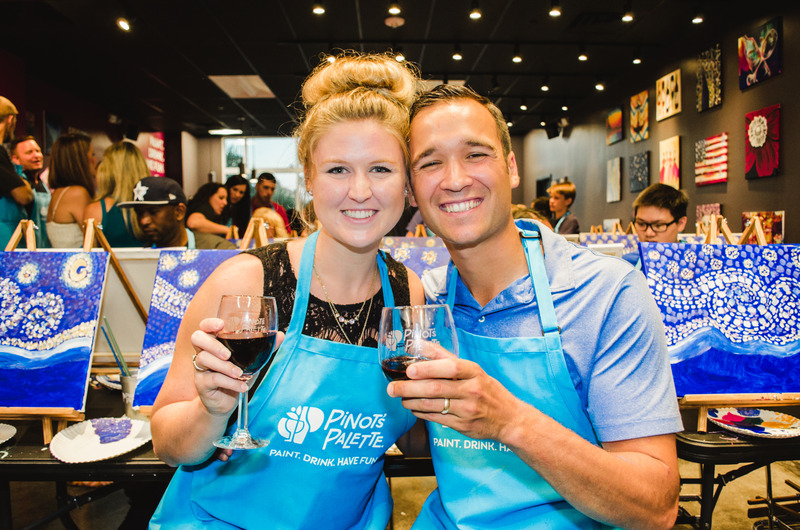 1) Paint and drink at Pinot's Palette in Firewheel Town Center! We are obviously biased, but if you haven't come in for a date night it's one that won't be forgotten. In a 2 or 3 hour scheduled painting class we have an artist walk you through the featured painting step-by-step. No art experience needed and simply $35/person on average. In fact, most of our customers have no experience but always end up with a great painting to take home. BYOB for 21+ and bring your own food as well if you like. We provide glasses, ice, plates, and utensils. We'll play music hits from all decades and simply have fun. If you are looking for an easy and fun way to unwind, this is a great date night. Simply click the link at the bottom of this page to visit our upcoming painting classes calendar and sign up. Register online in advance and you'll automatically receive a confirmation email with the rest of the details.
https://www....arland/events
2) Eat and drink at Intrinsic Smokehouse and Brewery. Serving slow smoked barbecue and handcrafted beers in historic downtown Garland, they are a great place for a date night. Many nights they have live music on their back patio as well as giant Jenga. It's the perfect amount of chic and cuteness paired with delicious food and beer. If you haven't stopped by, you won't be disappointed.
3) Experience a movie in the marquee suites at BB theaters in Wylie. While sitting in a luxury recliner seat on a balcony with perfect view, you can enjoy your favorite movies. They serve food and alcohol with waiters on hand any time you need them. It's a cheap way to feel like royalty. Our favorite is their B&B burger and highly suggest trying their cheesesticks as well.
4) Enjoy local beer at a microbrewery at Good Neighbor Brews in Wylie. This would be a great way to enjoy an evening out as they have a giant sized connect 4 and incredible IPAs and ales. Try a local brew and take a pass on your typical store bought beer.
5) Walk the trails at Spring Creek Forest in Garland. Perfect for a Saturday or Sunday afternoon if you're looking to get some fresh air. Enjoy the trails and the trees and take in the nature. It's easy to get so busy that we forget to slow down and appreciate the simple things around us.
We know this is a short list, but we hope it gives you a new date idea or two! Click below to look at our painting class calendar and sign up for a future class. We hope to see you soon!