Make Your Bedroom Decorating Dreams Come To Life
When it comes to home décor, living rooms and dining rooms get all the love. They are the most seen and most used areas in your home. It's where "Girls Night In" takes place. And where you cuddle up on the couch for Date Night at home. But just because fewer people see your bedroom doesn't mean it should be neglected in your decorating plans. Here are a couple of ways to personalize your bedroom so it's a sanctuary.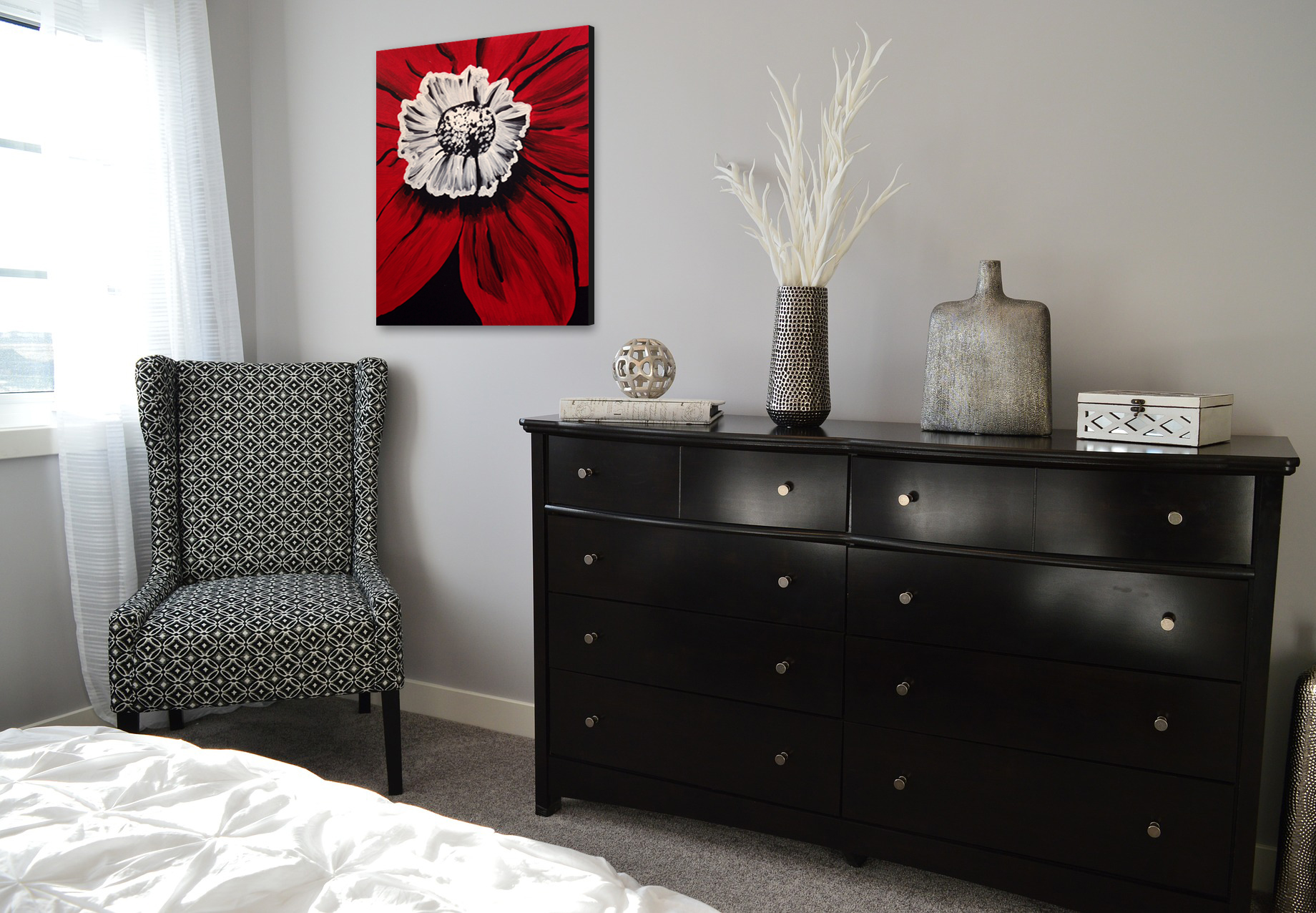 DIY Artwork- Paint a custom masterpiece at Pinot's Palette Fort Lauderdale! Let's be honest, the best art on your wall is the art you create. The painting you see above is our very chic Regal Red.
Monograms & Initials- You can find wooden and metal letters almost anywhere - in craft stores, home décor boutiques, antique shops, junk yards and beyond. Paint and refinish. You can also add flowers, beads, or rhinestones for extra pop. Also look for monogrammed pillow cases and throw pillows for a cute addition to your bed.
Mix and Match- If you love finding unique, one-of- a-kind pieces while shopping in antique stores and boutiques, don't be afraid to display them together. Let your creativity soar with an eclectic look that perfectly captures your personality.
Give Old Objects New Life- A wooden ladder can be refinished and turned into a fantastic bookshelf. A stack of old suitcases can make a very cool side table.
Create Resting Places- Your bed doesn't have to be the only place you curl up. Let an eccentrically patterned arm chair make a statement in the corner.
Surround Yourself With Comfort - Make your bed into a plush paradise with fluffy pillows, plush blankets or ultra-soft throws. Place furry rug on the floor to make that first step on a cold morning just a little easier. Mix and match colors, prints, and textures to make a room more inviting.
Soft Lighting – Design your own mood lighting by placing string lights around windows, wrapped around furniture, or even hanging from the ceiling. Mix and match different lamps to create the ultimate relaxing atmosphere.
Go for Monochrome – Utilize your favorite color in a variety of shades and textures on your bed, floor, and walls to achieve a multidimensional, sophisticated design.
Pops of Color - Go neutral on the major pieces and add pops of color with simple, inexpensive decor that can easily be switched out when your appetite changes palettes.
By implementing just a few of the above suggestions, you can make your decorating dreams come true.
Enter your contact info and request details below, and we will contact you with details about your private party!