Interview With The Artist: April W. Davis
Art completes what nature cannot bring to finish. The artist gives us knowledge of nature's unrealized ends. - Aristotle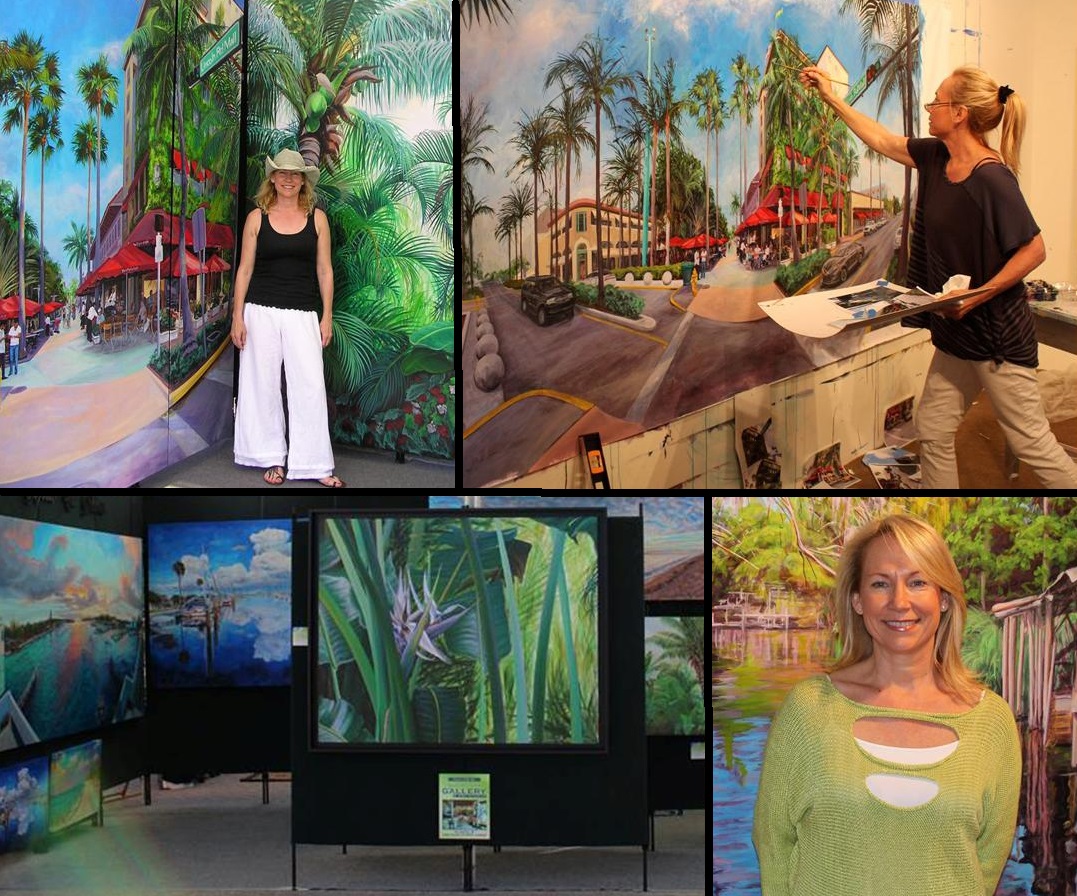 It is Aristotle's quote which runs through my head when I view the larger than life tropical landscape painted by April W Davis. At 6 feet tall, April's work has a commanding presence which draws you in, like an entrance to a tropical secret garden. A New York native, April has been painting for about 40 years, with the last two decades in Florida. I spent an afternoon talking with April from her studio in Jupiter about her work, her inspiration, and the advice that changed everything.
Question: April, Where do you find inspiration for your art?
April: The inspiration for my art has always come from nature and the world around me. I first began painting landscapes while studying in Maine. When I moved to Florida 20 years ago, I began painting the lush tropical plants in my backyard. I try to create a window into nature, to create a mood through light and color.
Question: You specialize in panoramic scenes and large canvases. Why did you choose to paint with that twist?
April: It just really evolved after grad school. It worked for me because I wanted to put the viewer into that particular setting and scene and actually feel like they were there. By working on a large scale, I believe it becomes easier to visually move inside my paintings, perceiving the image not through thought but through feeling.
Question: April you regularly display your art at the Las Olas Art Fair in Fort Lauderdale, and at other festivals across southeast Florida. How do you prepare?
April: It takes a lot of work to get ready for an art festival such as the one in Fort Lauderdale. I not only prepare all my reproductions, but I have also debuted a lot of my original new pieces at art festivals. In fact, nearly every year I have showcased a new original painting at the Las Olas Art Fair. It is a lot of work, but it is very rewarding.
Question: What do you get out of going to art festivals? Are they like a big painting party?
April: I think the best part of an art festival is you get to connect to people who view your art. You get exposed to thousands of people on a weekend in Fort Lauderdale or other great cities in southeast Florida. An you get immediate feedback. Even the negative can be helpful. It helps shape what you do. The best compliment is people saying your art makes them happy.
Question: Who has been the biggest influence in regards to your work?
April: That's a great question. I think it would be my high school Art Club teacher in my senior year. I was preparing to go to Queens College as a science major. My Art Club teacher told me to take elective art classes at Queens College because the school was good in art. Art wasn't my passion then, I thought I was going to be a medical technologist. But my passion changed after a few art classes.
Question: How does the painting process work for you?
April: I'm a very fast painter. I like to cover a lot of area quickly. And I love to listen to music in my studio to put me in the right place creatively. But I have learned that it's not necessarily all about the end results. It's the act of painting itself that is wonderful. It's like meditation and takes away everything you are stressing about and it focuses on creating. It brings a sense of peace and a connection to the Universe. In some ways it's not me that's creating, it's a gift from the Universe.
Question: Do you have Philosophy on art or life?
April: My philosophy on art and life is the same for both. Do something you are passionate about, and create joy and peace for yourself and those around you. This is what I strive for in my life and in every work of art I create.
Question: Do you have any advice for people who are coming to Pinot's Palette Fort Lauderdale for the first time and may be intimidated by the painting party?
April: The best part of doing art, is doing it, not the end results. Don't get caught up in the looks. My first figures looked like frogs! You don't have to be Picasso. Art is something that can be learned and the only way to learn is by doing it. And the only way to create something you love is to let go, and have fun. When you do that, that is probably when you have your most creative moments. Just do it.
Great advice April! It doesn't matter which painting you choose to create at Pinot's Palette Fort Lauderdale during your Paint and Sip party. Whether you paint a big green frog or a Picasso with your own painting twist; what matters is that you choose to create and have fun at your painting party.
Enter your contact info and request details below, and we will contact you with details about your private party!