Mulled Wine Recipes that will Warm You Up!
Mulled Wine is a cold weather tradition that dates back to the Roman times. For centuries, wine lovers and enthusiasts have been brewing this winter warmer and experimenting with their own recipes.
It is an easy addition to a chilly night or holiday party; these days all you need is a slow cooker, a bottle or two of wine, spices like cinnamon, cloves and star anise and tart fruit. You can also customize the garnish on your drink with things like rosemary, lemon or orange peel, cranberries on a skewer, or with some of the spices you added to your mulled wine.
Here are some recipes from Delish.com, Valerie Bertinelli and the BBC to get you in the holiday and mulling spirit!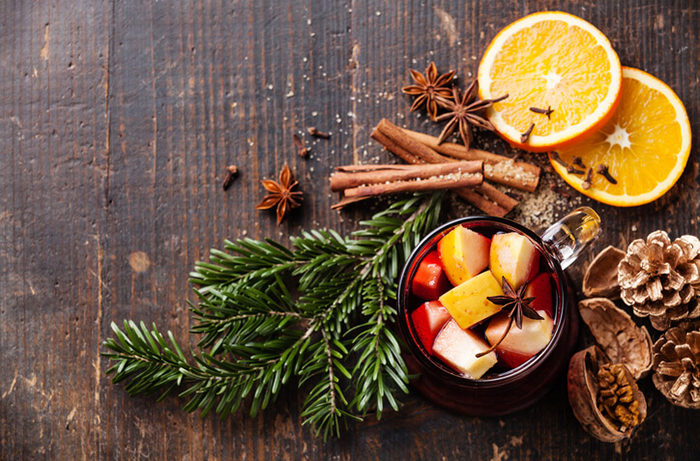 Ingredients
1 bottle red wine
1 cup apple cider
1 cup cranberry juice
1/3 cup sugar
1 cup fresh cranberries
2 oranges, peels and juice
2 whole cinnamon sticks
1 tbsp. whole cloves
1 tbsp. star anise
Directions
Combine wine, cider, cranberry juice, sugar, cranberries, the peel from 1 orange, the juice of 1 orange, cinnamon sticks, cloves and star anise in a slow cooker. Stir to combine. Cook on high until warm, about 30 minutes. Garnish each glass with orange peel.
Ingredients
1 bottle red wine
4 cloves
3 whole star anise
2 cinnamon sticks
1 bottle red wine
1/4 cup sugar, optional (depending on sweetness of wine)
2 strips orange zest, removed with a vegetable peeler
1 1/2 cups orange juice, freshly squeezed and strained, or store-bought
1 small sprig rosemary, plus sprigs for garnish
Directions
Wrap the cloves, star anise and cinnamon in a small square of cheesecloth and secure it with kitchen twine. Combine the wine, sugar, orange zest, orange juice, rosemary and the spice pouch in a slow cooker. Cook on low heat until hot, about 1 hour. Adjust the slow cooker to the "warm" setting. Garnish with rosemary.
Ingredients
2 bottles red wine
100ml Cointreau
Peeled zest and juice of 2 large oranges
Pared zest of 1 lemon
120g golden caster sugar (or other granulated sugar)
2 cinnamon sticks
3 star anise
4 cloves
Slices of orange
Directions
Put all ingredients (except the slices of orange) in a slow cooker on low for 1 1/2 - 2hrs, until hot. Serve with slices of orange
Enter your contact info and request details below, and we will contact you with details about your private party!