Managing Coronavirus Risks at our Location
At the time of the writing of this blog, there has only been one confirmed case of coronavirus in Dutchess County, but we take your health and ours seriously, and want you all to know what measures we're taking in the studio to manage the risks of this virus.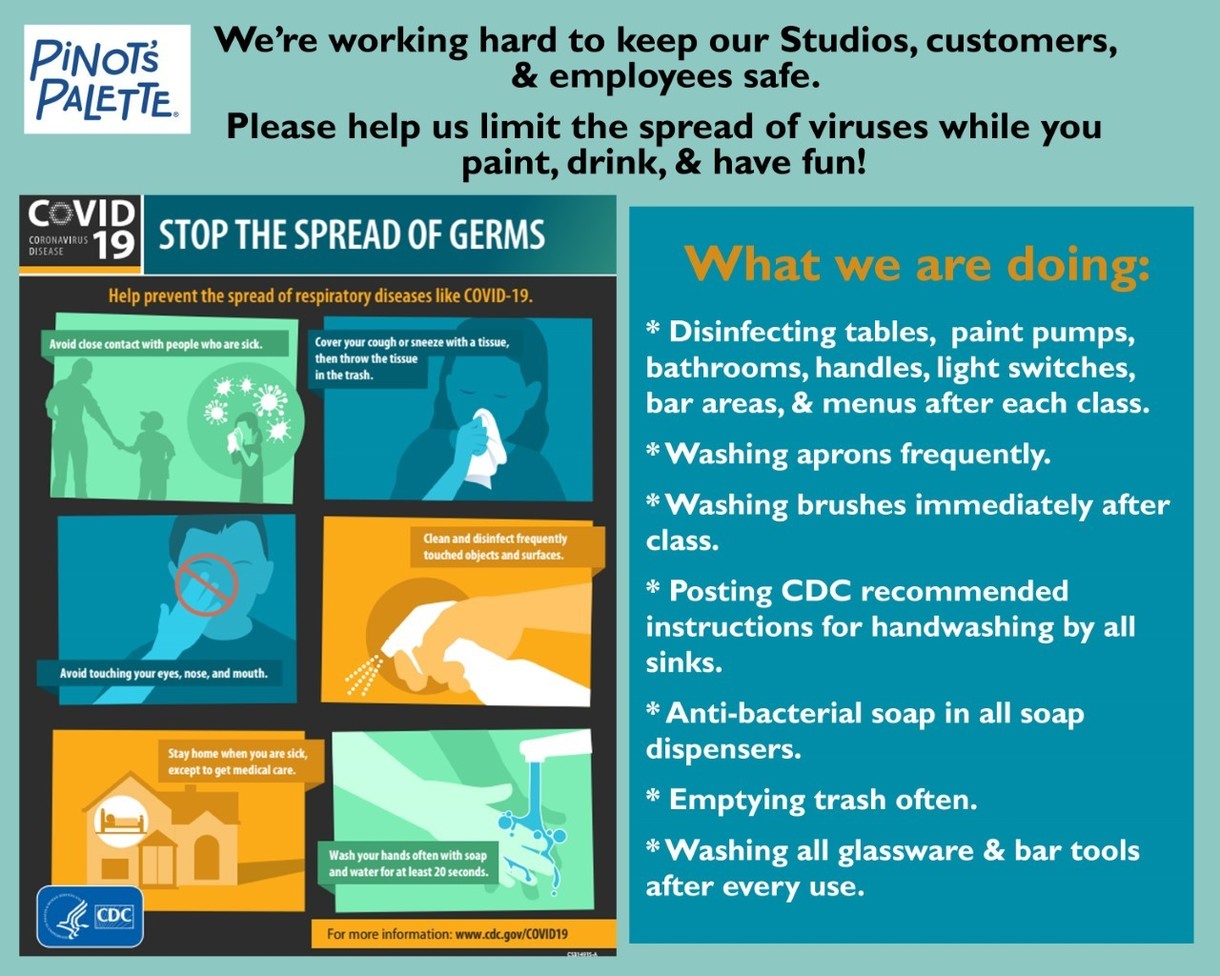 1) Social Painting with Social Distancing; we will be cutting our class capacity by half in order to limit crowding in the studio and provide extra space between painters.
2) We normally clean our studio daily and prioritize our studio's cleanliness, but will be adding to our typical routines. Bathrooms, entryways, doorknobs, light switches, tabletops, seats, the bar area (including countertops and sinks), and all reusable materials including water cups, paint brushes, paint bottles, etc. will be cleaned and sanitized after each and every class.
3) We have ordered disposable aprons, but until they arrive, we will collect all of our studio aprons for laundering after each use.
4) Glassware and all plates, utensils, etc. are cleaned and sanitized after every use, which will continue. Additionally, we will have disposable wine glasses available.
5) All staff including artists and bar staff will continue to thoroughly wash their hands throughout the day.
6) We will post CDC recommendations for hand washing at all sinks.
7) We encourage anyone who has a reservation for a particular class, but is feeling unwell to please contact us so we can place your reservation on hold.
If you're still concerned about joining us for a public class, but want to enjoy an event with just your friends and family, please contact Jose at the studio at (845) 379-1925 to discuss options.
Please feel free to contact the studio with any questions at (845) 379-1925.