September 27th Hiring Fair!
Are you a talented painter? Are you outgoing and LOVE seeing people create IN STUDIO & VIRTUALLY?
Pinot's Palette is, a leader in the paint-and-sip industry, and we're looking for talented and fun art instructors!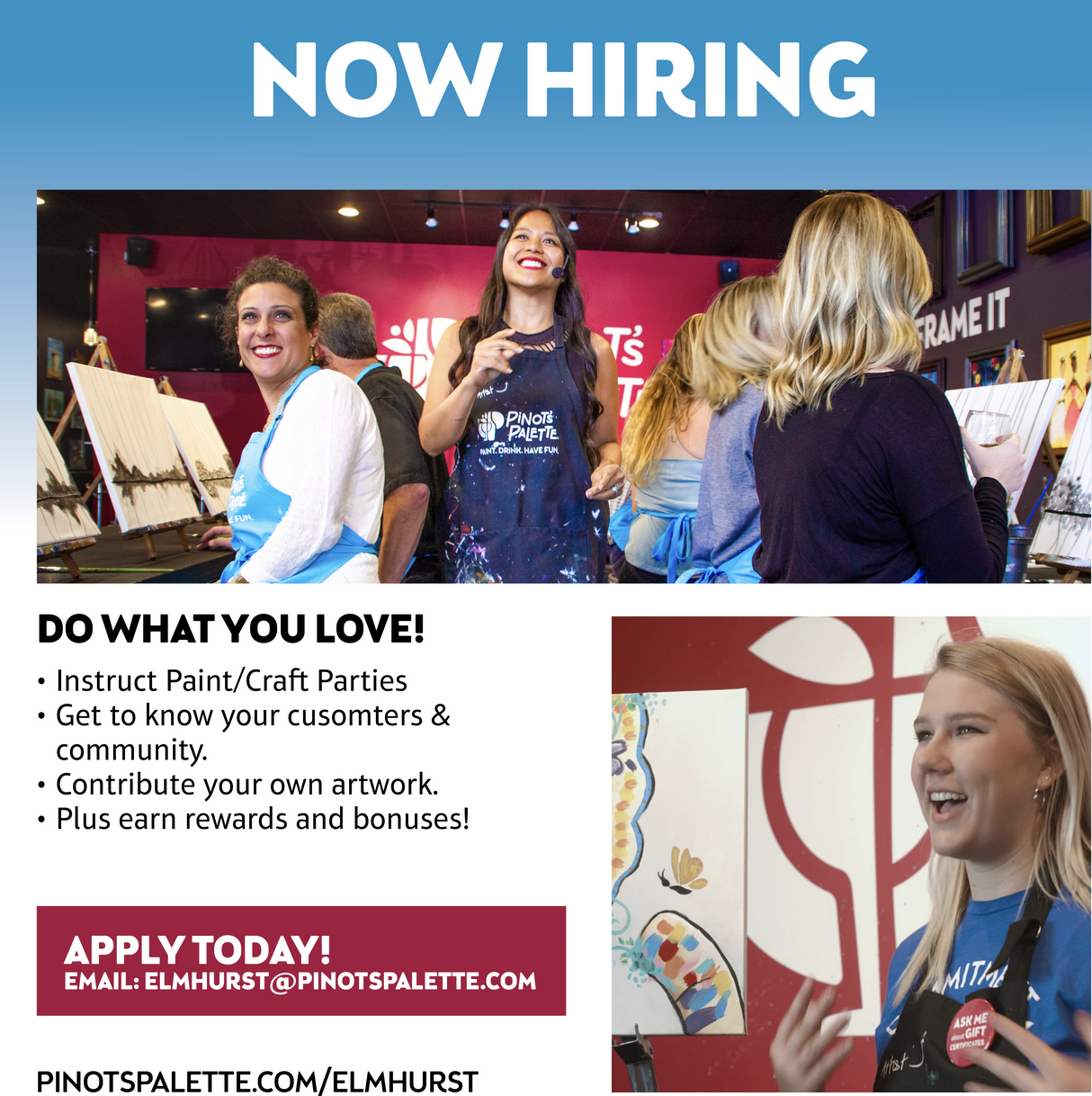 Join us on September 27th, from 2 - 6 pm for an Art Instructor Hiring Fair! You will paint along with one of our Instructors, demonstrate your acrylic painting skills, and learn about the Pinot's Palette mission and goals.
To participate in the Hiring Fair, please send the following information via email to Elmhurst@pinotspalette.com BEFORE the Hiring Fair:
- Resume
- 3-5 images of your own original paintings
- 3 work references
- availability
Once the above-listed documents are received, you will receive an Invitation to the Hiring Fair!
What we are Looking For in an Art Instructor:
- Skilled artists comfortable with public speaking
- Excellent customer service skills
- Artists who can break down a painting into simple steps
- Artists who can successfully replicate a Pinot's Painting
- Availability to teach a minimum of 2 events per week
- Weekend availability
Why choose Pinot's Palette?
- Flexible Scheduling! If you are a student or already have employment, we can work with your schedule.
- Lesson plans you can access online means that you can easily prepare for a successful class on the go
- We pay our artists as employees (W-2) vs contractors (1099) which means we pay a portion of your taxes for you (and you take home more)
- Chance to receive Tips on top of your hourly wage!
- Build your own Pinot's Palette portfolio! Participate in our national gallery of paintings and earn ongoing cash rewards for the use of your original paintings nationwide. The more times your painting is used at our 150+ studios nationwide, the more you earn!
- We provide shifts of 4 or 5 hours in length, depending on the painting