Throw An Amazing Halloween Party!!!
It's time to start planning for this year's Halloween party! Make it the most spooktacular one yet, with these fun and unique ideas!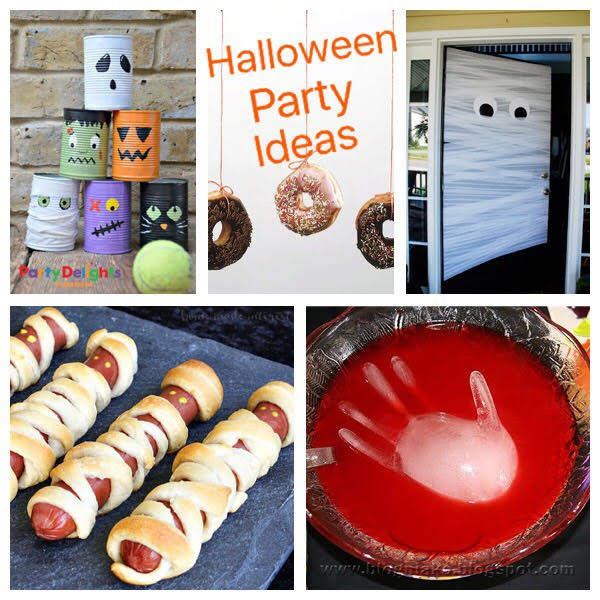 We'll provide you with some great ideas for everything from the decorations and games, to the food and drinks! We've been searching and found the best of the best ideas for any type of party you may be throwing! Whether you're hosting an adults only event, kids' party, or one for everyone to enjoy, we're here for you!
First, decide on the guest list... then plan accordingly. You don't want boring, kids' games at a bash with your peers... and you certainly don't want to watch 'Nightmare On Elm Street', while the kiddos are eating their candy!!! Make your list, think about a general party theme, and start planning!
FOOD AND DRINKS:
Kids Food:
1-Mummy Dogs:
*With a few, simple ingredients and easy steps, you'll leave everyone impressed and full, with these delicious hot dogs, wrapped in biscuit dough!
https://www....-ee79820317bf
2-Banana and Strawberry Ghosts & Tangerine Pumpkins:
*Add in some healthy food options with fruit!; dip banana halves and strawberries into white chocolate, add eyes and a mouth and you have an edible ghost! Turn tangerines into pumpkins, by adding a time stalk of celery to the top of the pealed fruit!
https://www....erries-520942
3-Mini Pizza Pumpkins:
*Orange cheese on a mini pizza crust will instantly look like a pumpkin! Add olives for the eyes and mouth, and you've really created something special!
(Tip: grab store-bought, pre-made crusts to save even more time!)
https://www....rating-ideas/
Kids Drinks:
1-Hocus Pocus Punch:
*"Wow" your guests with this fruity and fizzy, delicious party punch! Add a spider ring on the side for garnish!
http://nouri...loween-punch/
2-Screaming Red Punch With A Hand:
*Put out a bowl of red, apple and cranberry punch, with a little something extra.... a frozen, ice hand floating around to keep the punch cold and the spookiness alive!
http://www.s...h-with-a-hand
((Extra drink tip: make some 'wormy ice', by adding some gummy worms into the ice tray and freeze the cubes. Any drink will look amazing with this extra addition!)
**more children's party food ideas here:
https://www....ats-for-kids/
***************************************
Adult Party Food Ideas:
1-Ghost S'mores Dip:
*Who doesn't love S'mores??! This recipes is turns the orignial S'mores ingredients into an amazing dip!
http://www.d...mores-recipe/
2-Jack-o-lantern Stuffed Peppers:
*These delicious, and healthy peppers can be stuffed with whatever filling you'd like!
http://www.d...ppers-recipe/
3-Pumpkin Deviled Eggs:
*Take a tasty deviled egg recipe, and turn it into some adorable little pumpkins! Extra paprika will help the eggs look more orange!
http://www.d...-eggs-recipe/
Adults Only Drinks:
1-Pumpkin Pie Punch:
*Take the classic, Fall drink to the next level by adding some booze... this punch packs a punch!
http://www.d...punch-recipe/
2-Halloween Jell-o Shots:
*These jello shots could not look or taste any better! With all of the best colors of Halloween, combined into one shot, they'll make the party really come alive!
http://www.d...shots-recipe/
**more adult party food and drinks here:
http://www.s...rinks-recipes
____________________________________________________________________________________________________
DECORATIONS:
These decor ideas will work at a party for any age! Make them now, and keep them around the house for the whole month! (The kids will LOVE to help create with you, as well!)...
-Bats and Ghosts:
*Recycle egg cartons into some bats and turn dollar store leaves into spooky ghosts, with this easy and inexpensive craft that the kids will love to make with you!
http://www.h...ds-craft.html
-Mummy Front Door:
*Make a huge first impression on your party guests by creating this whole-door decor to greet them!
http://honey...t-door-mummy/
-Glowing Mason Jar Pumpkins:
*These adorable pumpkins will add ambiance to your party and are a great 'take home' gift for all of your guests!
http://lovea...loween-craft/
**more great decorations:
https://www....orating-1005/
____________________________________________________________________________________________________
Games & Other Entertainment Ideas:
There are quite a few ideas on this list, that could definitely work for both, kids and adults! Toilet paper mummy wrap... remember that one? Think about watching your grown friends, being twirled around in mummy wrap! :)
You know your guests best.... you can decide which ones would make the most fun at your party!
Kids' Party:
- Witch Hat Ring Toss:
*His game is easy and inexpensive to create and will be fun for years to come!
http://somet...arty.html?m=1
-The Zombie Game:
*One child is chosen as "it," while the others must remain as expressionless as zombies. "It" must get at least one of the "zombies" to smile, giggle, or laugh without touching that person. Once a zombie laughs, that person becomes "it!"
-Tin Can Bowling:
*Much like traditional bowling, this version has a Halloween twist! Cans are decorated with as pumpkins, ghosts, and more.
http://blog....-can-bowling/
**more kids' party games:
http://mylif...mes-for-kids/
***************************************
Adults Only Party:
-Murder Mystery:
*This timeless and classic diner party game, is always a great one to play at a party! The guests can each play a different character, which will aid in an easy costume idea for the party, as well!
https://www....erarticle.htm
-"Bobbing" For Apples... or Donuts:
*What would a Halloween party be, without this game! Take your friends right back to their own, childhood party with the classic version, involving water.....or with a modern twist! *Tie an apple to a string and hang it, while you watch your friends try to grab the apple and bite it! (Try it our with a donut, too!)... your friends who spent hours on their costume makeup will thank you for the water-less version!
https://www....-string-game/
-Horror Movie Triva:
*See which of your friends knows their movie killers best! Give out prizes to the winners and turn it into a drinking game, where every wrong answer must take a sip!
https://www....games-1357639
**more adult party games:
https://www....es-for-adults
____________________________________________________________________________________________________
Want a more low-key way to celebrate Fall and Halloween?! We can help! At Pinot's Palette, Edwardsville, we offer painting classes where you can come and create your own seasonal artwork! Stop in and see for yourself, just how fun these 2-3 hour classes can be!
Add some personal decor to your home, this season, with one of the many, amazing paintings we have, coming up! Throughout the next few months, we'll be featuring some extra-special paintings! From Fall and Halloween decor, to Winter and Christmas paintings, we'll have something for everyone!
Check out our site, below, to see our full calendar and sign up for a class! We hope you'll come join us, and have a wonderful night-our experience! These classes are a fun idea for a girls' night out or even a unique date night, as well! Bring friends and family to join in the fun, and create a masterpiece you'll cherish forever!