Painting Outside The Box
If you've been to you one of our classes, chances are, you've painted on one of our standard 16" x 20" canvases. But, every so often, we like to change up our usual format!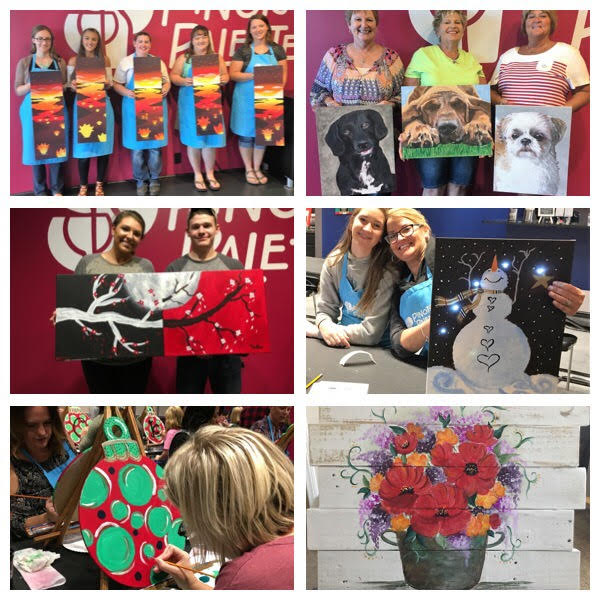 From date night paintings, pet portraits, and wooden pallets (and other wooden decor), we paint it all! We like to step away from our usual class structure, where everyone follows the same step-by-step directions on the same-sized canvas, and do something different!
We have a few classes posted on our public calendar throughout the next month or so, but be sure to continue to check it each month, as we add more classes! While we often offer a 'paint your pet' class, as well as a 'date night' class, some of other others are more rare...
DATE NIGHT!
Come in with your significant other, roomie, bestie, mom or dad, or just bring yourself to our 'Date Night' classes! You paint one canvas, while your partner paints the other. Both halves of the paintings come together to make a whole! You'll leave class with an extra large painting to hang, and a collaborative effort from each person, painting a half, to make a whole masterpiece! If you're loving the painting but wanting to do it yourself, on one standard-sized canvas, come on in! We often have customers participate in our date night classes, individually, and it works just the same!
Sign up for our August 'Date Night' class:
https://www..../event/178934
*the best part: it's also 1/2 price wine night!
___________________________________________________________________________________________________
PROJECT PET!
What better way to show everyone how much your precious pet means to you than to turn them into a masterpiece! Send us a favorite photo of your fur baby and we'll help you paint it! People absolutely love this class! Be sure to sign up ASAP, as we sell out fast! (additional information is available on our website, or feel free to call or stop into our studio)- check out our Facebook page to see some of the amazing pet portraits, produced by our customers! It may seem difficult, but you'll be amazed at how you really CAN do it!!!
Facebook: 'Pinot's Palette (Edwardsville)'
Come out and paint your pet in September:
https://www..../event/186129
____________________________________________________________________________________________________
WOODEN PALLET PAINTING!
We have an extra special painting coming up later this month! We'll be painting on a wooden pallet! This unique artwork is sure to look stunning in your home, or even outside, on a patio/deck area! Rustic decor has been high on the list of popular home decor, over the past few years! The classic floral design will look beautiful and colorful against the worn wood. This painting is easy to alternate with colors that best fit your color scheme, as well!
Join us for our wooden pallet painting:
https://www..../event/180831
___________________________________________________________________________________________________
AND MORE!!!
*Every so often, we offer long or square canvases, too! We will be painting on some unusual-sized canvases throughout the next 3 months!
Come out and join us, as we "Fall Out Of Format". Read more about it HERE:
https://www....-paintandsip-
As the holidays draw closer, be on the lookout for more unique themed classes and artwork we'll be offering!
*We hosted some illuminated painting classes, last year, that were a big hit! We helped walk customers through one of our holiday/winter paintings, then added on some tiny lights to make the painting even more spectacular!
*Last season, we created some beautiful wooden door hangers! Shaped like an ornament and personalized with a family name or initial, it made a super cute door decoration for many festive homes! Keep an eye out for more date nights and project pet classes, too!
Check out the calendar, sign up for a class, and we'll see you soon!
Cheers!