Yoga, Painting, and Wine!!!
It's the trifecta of awesomeness... yoga, painting, and wine!!! Come out and participate in this amazing event, making it one of the best night out experiences ever!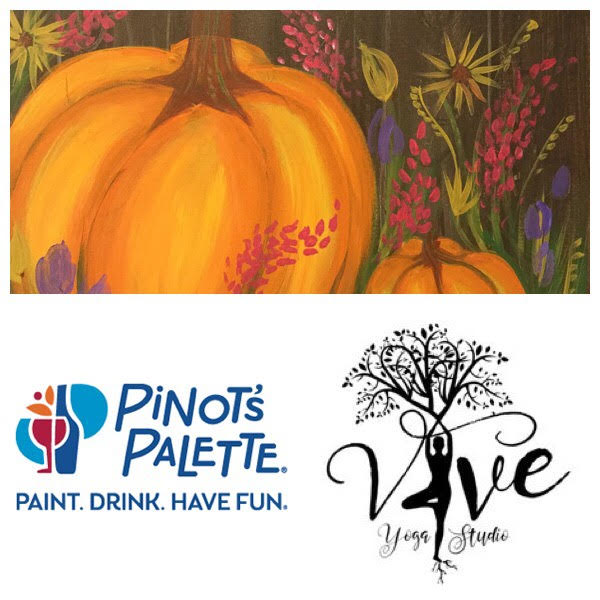 We're partnering with the incredible yoga studio, 'Vive Yoga', and creating a super exciting night to remember!
On Friday, Septemeber 22 (7-10pm), we will be getting in touch with our creative and spirited side as we try out some yoga poses and painting techniques!
Don't do much yoga?? Haven't picked up a paint brush since 5th grade? You're in luck... Both of these classes are beginner-friendly! We have a talented team at Pinot's, ready to help you with anything you may need!
Come, dressed in yoga/workout gear or comfortable clothing, bring your mat (or you can use one that will be provided), and get ready for a great night out!!! Bring friends and family to join in the fun, too!!! At 7pm, we'll start with a 45 minute yoga session and then move on to painting from 8-10pm!
Register for this event, on the link, below! Reserve your spot, ASAP, to be sure you'll get a seat for this event!!! We will be providing snacks and we have a cash bar, for some drinks to help loosen you up for the painting class, if the yoga didn't entirely do the trick! :)
Come paint this gorgeous Fall-themed painting with our Pinot's Palette artist, Lindsey. She'll be walking you through the 2 hour masterpiece, step by step, encouraging and helping you, the whole time! This is a perfect painting, as we're excitedly, diving into the Autumn season and ready to decorate our homes! Come and create a stunning work of art that you'll cherish forever. The best part.... you'll remember the fun night out with friends and family that you had, every time your look at your artwork!
Beyond fun, yoga is good for your health in many ways! Getting in touch with your body, through breathing and using different poses, is beneficial all the way around! You'll feel more calm and clear after even a short yoga session... and who knows??... this 45 minute class with 'Vive Yoga' may start you down a path of love for yoga or increase your current interest in it!!!
38 Health Benefits Of Yoga:
https://www....oga-keeps-fit
Read more about our partner for this event,
'Vive Yoga':
https://viveyogi.com/
Share Sign up for the yoga and painting event | View our whole calendar