Valentine's Day At Pinot's Palette!!!
This Valentine's Day, join us for a painting and wine class that's fun, unique, and exciting!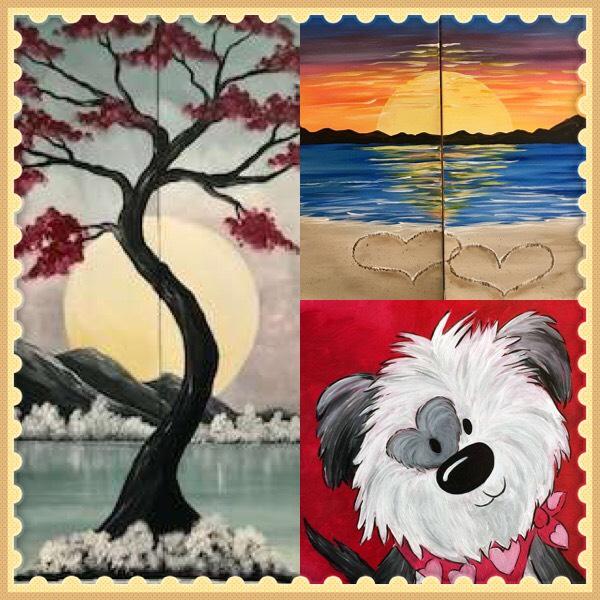 When most people think 'Valentine's Day', they conjure up ideas of dinner and a movie, candy and flowers, a homemade meal and a stuffed teddy bear….
And while those are all perfectly acceptable and traditional ways to spend time with your special someone, why not try something new this year?!
Join us for a painting and wine class at Pinot's Palette in Edwardsville and experience a Valentine's Day you'll always remember. Enjoy a unique night out experience with the date of your choice and join us as we paint 'Japanese WInter', a 'date night' painting on February 14 from 6:30-9pm. Created on a 2 long canvases, measuring 10"x30", the finished product will look stunning in any room! We'll have some special Valentine's treats for everyone, a delicious wine list, some great music, and a super fun atmosphere!
(('Japanese WInter' is shown, above, on the left-hand side))
BE SURE TO RESERVE YOUR SEATS ASAP, as there will be limited seating for this class and this date always fills up, fast!
At Pinot'sPalette, you'll spend time in a interesting and creative, environment getting in touch with your inner-artist and creating a masterpiece from scratch! Especially exciting for first-time painters, this class will open your eyes to a new kind of fun. The opportunity to be an artist for a night and end up proud of how well you did for having little to no, prior experience is always rewarding!
We have an amazing staff, including our talented instructors who will guide you through the painting, step by step, and our friendly bar staff, pouring some delicious drinks. There will always be someone available to provide extra help with your painting if you should need, and answer any questions you may have. As for our 'date night' paintings, if you've never been to one or heard of them, they're pretty great. You'll paint one canvas, while your other half paints theirs, then at the end of the class you'll push them together to create one, large work of art. If you're loving the date night painting, featured for any of our classes but don't wish to split it with a "date"… don't worry; you can come enjoy the class and paint the picture on just one canvas, or bring along your roomie, bff's, a parent, or anyone else you choose to split the picture with (*or not split it with…)! :)
Aside from our February 14th class, we will be featuring some excellent classes throughout the next few weeks:
-We have a lot of gorgeous LANDSCAPES coming up, which tend to be some of our customers' favorites! Landscapes are typically easy and fun to paint (hello, first timers!), and they look great in any home!
-We'll be hosting some fun 'FAMILY DAY' classes where your whole crew can get together foe some quality time and make some awesome works of art to hang, all throughout the house! Be sure to check us out on 2/10 for 'Love Bandit', where you and the family can paint an adorable Valentine's pup! ((Painting is shown, above, on the right hand side, bottom)
-We'll have an 'OPEN STUDIO' class on 2/17, where you decide what you want to paint! This is a unique style of painting class, as we'll have artists walking around to assist you, but since everyone will be creating a different painting, there won't be someone, walking you through the steps like usual. This can be a relaxing and interesting way to enjoy our classes, so give it a try!
-In addition to 'Japanese Winter' on 2/14, we will have a 'DATE NIGHT' painting on 2/16 (7-9m), titled, 'Romance On The Beach', so if you're unable to attend the Valentine's Day class, come in over the weekend and celebrate then. (*Be sure to view our entire calendar to see all of the 'date night' classes we have, from time to time!
(('Romance On The Beach' is shown, above, on the right hand side, top))
Lastly, if you're completely into the idea of dinner and a movie or flowers and candy because they hold a special place in your heart, then enjoy your Valentine's Day whichever way makes you happy… but keep us in mind for another date OR A PINOT'S PALETTE GIFT CERTIFICATE!!! Give your Valentine (or anyone!) the gift of a painting and wine class at their own leisure. They'll be able to select the date and time, as well as the painting they want to create! You can get your certificates in the amount you wish, and tuck in it into that box of chocolates or floral bouquet for a surprise your date will LOVE!
Purchase a gift certificate online, from the link, below or stop into the studio to get one!
https://www....-certificates
We hope to see you soon and from all of us here at Pinot's Palette, Happy Valentine's Day!
Share Sign up for our Valentine's Day | View our entire calendar here