Light's Out at Pinot's Palette!!!
It's that special time of year again.... everything turns black and orange, things start to get a little spooky, and candy and costumes are everywhere!!!!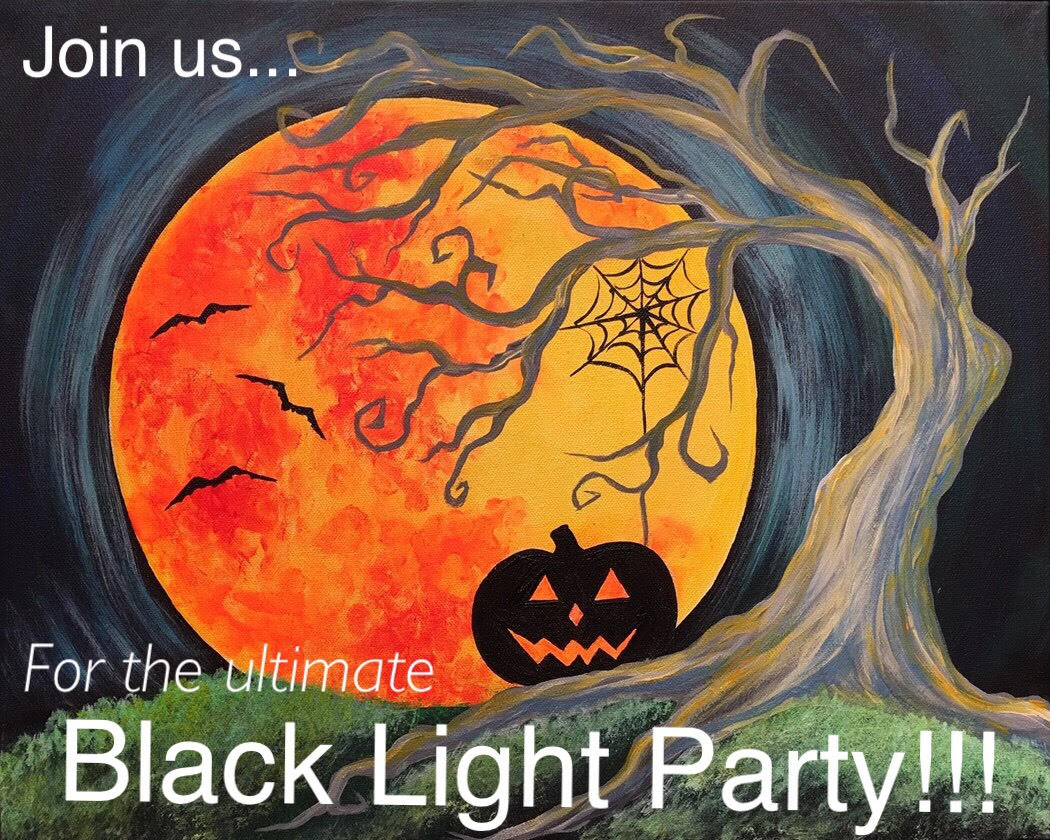 At Pinot's Palette in Edwardsville, we'll be doing something extra special this year!
We're painting in the dark!!!
That's right... we're turning off all of the lights and making the studio into a black light party!!!
While there will be enough light to see, we'll be using black lights, so the entire vibe of our class will be different than usual!
We'll also be using fluorescent paints to create a stunningly vibrant Halloween painting on canvas, under the glow of some black light ambiance.
***Come in THIS Saturday, October 28, from 7-9pm and paint 'Fright Night'
(*Painting is shown, above)
SIGN UP HERE!!!!
https://www..../event/194446
These classes are ALWAYS a huge hit! With everyone already in the mood to have a haunted night out, this time of year, this class will be a blast! Come in with friends and family to paint, drink wine, listen to fun music, and leave with a masterpiece!!!
If you're new to painting, don't worry... that's what we're here for. We design all of our paintings, with the first-time artist in mind! We will have a professional artist, walking you though the painting, step by step, so it's slow and easy for everyone! We have an amazing staff, available to help out with anything you may need!
You can check out our calendar on the link, below, and see all of the amazing classes we have coming up! If you're not into the painting for the black light class, or perhaps would rather paint in one of our regular classes, we've got lots of options! We have some great Holiday paintings coming up, soon, so be sure to sign up ASAP, as so many of our customers LOVE our themed classes!
Try out this super fun and unique black light class and see what you think!!! The best part of all??!!! Once you fall in love with this style of class, you'll be glad to know we offer them for private parties, too! You can get all of your friends and family together for a black light birthday party private event...
...OR suggest our studio for the best office Christmas party ever! Bring the whole work gang in to celebrate the holidays with the painting of your choice, regular or black light, and get non-stop compliments for helping to create an amazingly unique office event!
Click on the link, listed below, for more information on booking a private party! Some of the best things about having a private event with us, is being able to choose the date and time, pick the painting of your choice, have drinks and food while you paint, and choosing your own music! You'll be renting the studio for you and your guests for the whole class! These gatherings are wonderful as they help to bring everyone together and watch one another's inner-artists come alive, as you paint the night (or day) away!
We hope to see you soon for a class, and remember to sign up for the black light class, as it's coming up SOON!!! Tell all of your friends about it and celebrate the spookiest season of the year with us here, at Pinot's Palette, Edwardsville!!!
Share View our entire calendar HERE | Learn more about private parties HERE