Gather All Of Your Favorite People In One Place To Paint, Drink, & Have Fun! The More, The Merrier!
This is the perfect time of year to catch up with old friends and spend time with family! Gather together with all the ones you love in one place: Pinot's Palette!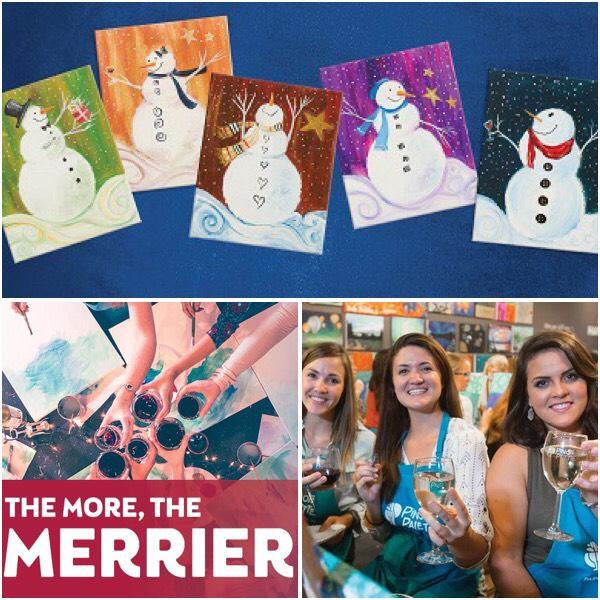 We make a great place to catch up while getting creative, sipping some delicious wine, and listening to some good music! This December, we're offering a fabulous deal for you and your whole crew to take advantage of; It's a promotion called, 'The More, The Merrier', and when your buy 5 seats, you get 1 FREE! The more seats you buy, the more money you save and the more friends you can spend time with!
Come in and discover your inner-artist as you paint, drink and have fun in one of our many, incredible classes this month! From our standard 16"x20" canvases to long 10"x30" ones, wooden pallets, light up paintings, and more, we've got some excellent picks on the calendar for you and your friends to come in and make! Use your masterpieces to decorate your home for the holidays and give some out at gifts, too! The best part is that you'll have fun making some artwork, relax as you unwind from a long day, and learn more and more about the art of painting with each class you take!
***All about the deal:
When you buy 5 seats you get the 6th one FREE!
HERE'S WHAT WE'LL DO FOR YOUR PAINT PARTY:
• We'll make sure your whole group gets seated together.
• We'll play the best music.
• We'll provide the glasses, the ice, the aprons, the art supplies, and pretty much everything. (But check with your studio to see if it has a bar or if it's BYOB!)
• We'll let you use the VERYMERRY discount each and every time your group of 6+ goes to a December event!
DISCOUNT CODE DETAILS:
• It's valid for regular, public events in December 2018 only (i.e., not for private paint parties or specialty painting events like Project Pet).
• Please complete a single transaction for 6+ seats (i.e., buy all your seats at the same time).
• Can't be combined with other discounts or promotions (but you can use VERYMERRY multiple times for one event if you've got a group of 12 or more).
• Can't be used to buy gift certificates, frames, stemware or other merchandise (but you can still include these items in your order).
Let's get on it! Call your favorite people and find a painting you all love at a Pinot's Palette studio near you. Don't forget to use discount code VERYMERRY at checkout!
*Remember to keep us in mind for your annual holiday party! You can book your private event with us and have a whole lot of fun as you paint, drink wine, and make some great memories! But be sure to book, ASAP, as our spots are filling up fast!
https://www....sville%2Fblog
*Our paintings AND our gift certificates make wonderful, thoughtful, and creative gift ideas so come in and create a bunch of piece of art to give out or stock up on gift certificates for everyone you know!
https://www....-certificates
CHEERS!
Share View our full December calendar | Purchase some gift certificates!