The Admirable, Elaine Tuner, Inspires Pinot's Palette!
(*Elaine Turner, below, in black)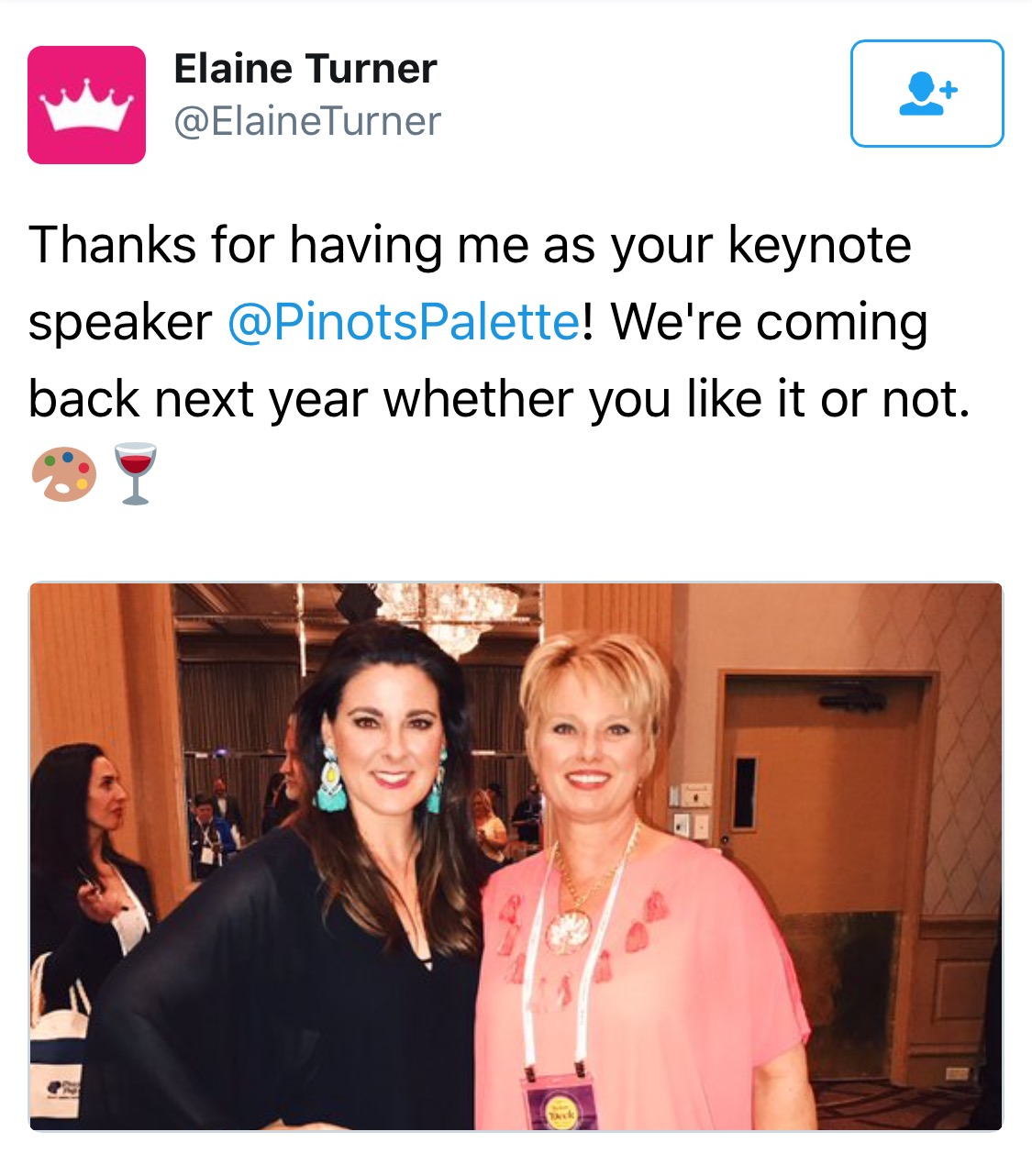 The greatly-admired and inspirational Elaine Turner made a visit to the Pinot's Palette retreat in Texas, recently, and we just can't stop talking about her! With her life always having been dedicated to working hard in business and giving back to the community, we found her story very inspiring!!!
Growing up in Texas, Elaine comes from an entrepreneurial family. She graduated from the University of Texas with a degree in advertisting. In 2000, she took her love of fashion and made her way in the fashion industry, creating "Elaine Turner'" the eponymous lifestyle brand. From handbags and jewelry to shoes and apparel, Elaine has been working hard, making elegant, yet affordable items for women across the U.S.
Elaine and her husband, Jim, have been giving back for years. She has avidly supported breast cancer awareness, donating time and funds to various cancer related non-profits. "In April 2015, Elaine and Jim helped launch Autism Rescue Angels in honor of their daughter, Marlie. (The organization is dedicated to helping families with the financial burden of raising a child diagnosed with autism). Each of the brand's seven stores in Houston, Dallas and San Antonio have become a platform for women to connect and inspire each other, while raising awareness and funds for causes close to their hearts."
**Check out the site, listed below, to read all about Elaine. You can also check out all of the gorgeous clothing and accessories she offers!!
At Pinot's Palette in Edwardsville, we were especially moved by her speech! We know that starting and running a business is no small task, it was especially emotional, exciting, and motivational to hear about Elaine's trials and triumphs!
Check out Elaine's story on her website! You can also check out our calendar and come visit our Pinot's location, and find a little creative inspiration of your own!
Share Read More About Elaine!!! | Sign up for a class with our studio today!