Join Us For Some Of Our Upcoming Paintings- Great For All Ages!
We have some incredible paintings coming up this month and we'd love for you to join us for one!!! ..... or five... :)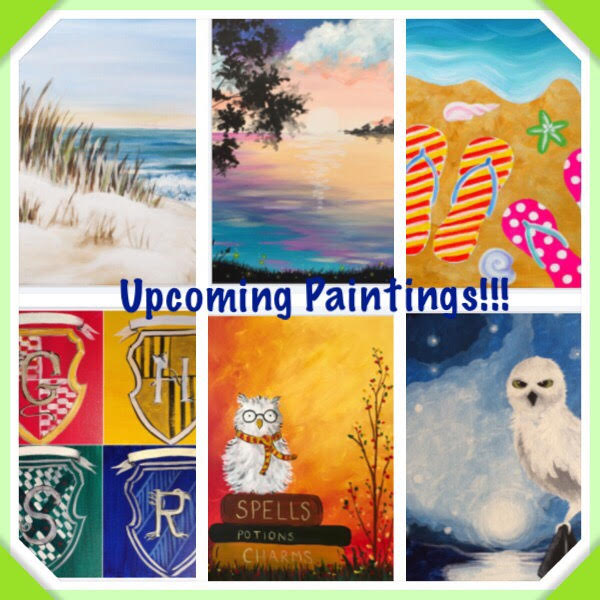 From brand new paintings and unique-sized canvases to beach and summer themed paintings for adults and kids, we've got it all!
Summer- inspired paintings:
*(adults)
7/14 (7-9pm)- 'A Day at the Dunes'
7/15 (7-10pm)- 'Firefly Lake'
*(kids)
7/19 (2-4pm)- 'Summer Flip Flops'
7/20 (2-4pm)- 'Cool Treats'
10" x 30" paintings! (unique long canvases):
7/16 (2-4pm)- 'Sunset Lanterns'
***(NEW painting!!)
7/21 (7-9pm)- 'Surreal Lake Sunset'
*** (Date Night painting!!)
Best of all?!!! We'll be featuring some super fun and always popular paintings towards the end of the month, in honor of our favorite wizard's birthday!! (And in honor of the author/creator of that wizard as well!):
7/27 (7-9pm)- 'Four Houses' (ages 12+)
*this is a self-guided painting class
7/29 (2-4pm)- 'Spellbound Scholar'
**Family Day!!!!
7/29 (7-10) - 'Winged Guardian'
7/30 (2-4pm)- 'Cauldron Chemist' (ages 12+)
We hope you'll stop in to paint one of these excellent pieces with us! It's always fun to paint, drink, and have fun with an adults only night out!
With the kids out of school and looking for new ways to entertain them, a painting class during the day is a fun way for them to get creative and waste some time!