DIY Halloween Decorations That Are Actually Do-Able
September is flying by and before you know it, it'll be time to decorate for Halloween! Get ahead of the game and start NOW!!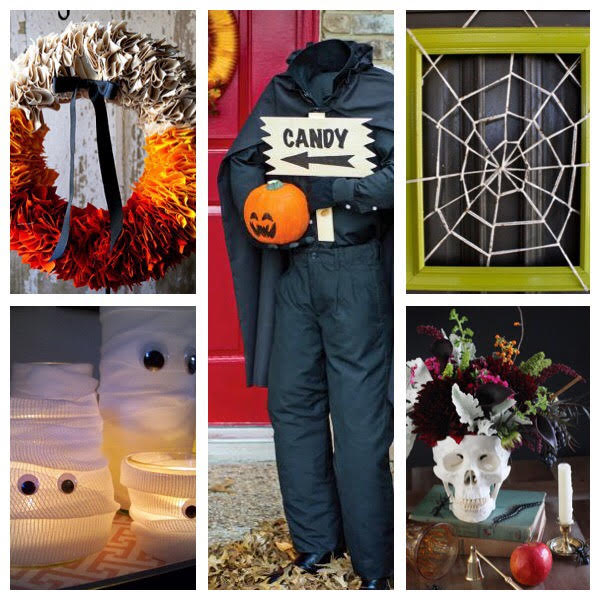 You can create some amazing Halloween decorations on your own this year! Have everyone in the neighborhood talking about your creative talents and impress the guests in your home with your crafty ways, too!
We found some incredible ideas for DIY projects and want to share them! So many of these ideas are fast, easy, and can be done on a super low budget!
Everything on the lists are amazing but here are the projects that we absolutely loved most!!!
***'Quick and Easy' Decor:
1-Yarn Spider Web
*this is made with minimal supplies, can be created in any colors, and would make a stunning door hanger:
http://www.m...der-web.html/
2- Mummy Mason Jars
*add a little spooky mood lighting to any party with these fast and simple ghost lights:
https://hisu...mummy-lights/
3- Raven Wreath
*welcome your guests with this easy and elegant wreath! Bonus: It can be made with just a few supplies!
http://www.r...eath.html?m=1
More fast and easy ideas:
15 Halloween Decorations You Can Make In A Flash!!
http://www.c...decorations/?
--------------------------------------------
*'Get Ready For The Compliments' Decor:
1-Floral Skull Centerpiece
*this modern decor is colorful, whimsical, and super fun!! The tutorial uses an expensive (yet, stunning) skull as the base, but you could do this with a cheaper version, found at a craft store or discount store, such as 'TJ Max' or 'Ross'.
http://hones...-centerpiece/
2-Headless Horseman Door Greeter
*give 'trick or treaters' (and all passersby) a surprise with this astonishing headless man, standing near your entryway.... or anywhere in the yard or house!
http://www.h...for-halloween
3-Candy Corn Wreath
*this elegant burlap wreath is absolute perfection! Combining the classic wreath fabric, burlap, with candy corn colors, is a lovely way to perk up a dull door. Once you get the technique down, you can use this wreath design for any holiday, with the simple changing of colors and fabrics!
https://whip...-corn-wreath/
***
Here are TONS of additional ideas!!!
60 of 'HGTV's' Favorite Halloween Decorating Ideas:
http://www.h...deas-pictures
40+ DIY Quick and Easy Halloween Decorations:
https://www....rations-1010/
___________________________________________________________________________________________________
While you're making one (or multiple) or these Halloween crafts at home, you may want to think about a painting class too! Come in to our studio for one of our 'Fall' themed paintings (and especially our 'Halloween' paintings) and create some art for your walls. Our classes are always a blast; with wine, music, and of course, painting, you'll have a fun and unique night out with us!
Don't worry if you haven't picked up a paint brush since 3rd grade... we are here for you! Most of the people who come to our classes have little to no experience in painting. We take it step by step, and our talented, professional artist and staff are here to help anytime you need!
Check out our calendar, listed below, for all of the information on our class days, times, and to view the paintings! You can easily sign up for a class, online, as well! Stop into the studio, or call/email us with any additional questions you may have. We hope you'll join us for some of our upcoming paintings... we have some excellent ones on the calendar for the next few months! Come make a wonderful masterpiece to add to your seasonal decorations OR one that'll you love to keep up, all year long!
Cheers!