Holiday Wine Paring
As we move into the upcoming holiday season, you're choosing wines for Thanks Giving, Christmas dinner and other holiday events over the next few weeks, this guide may come in handy.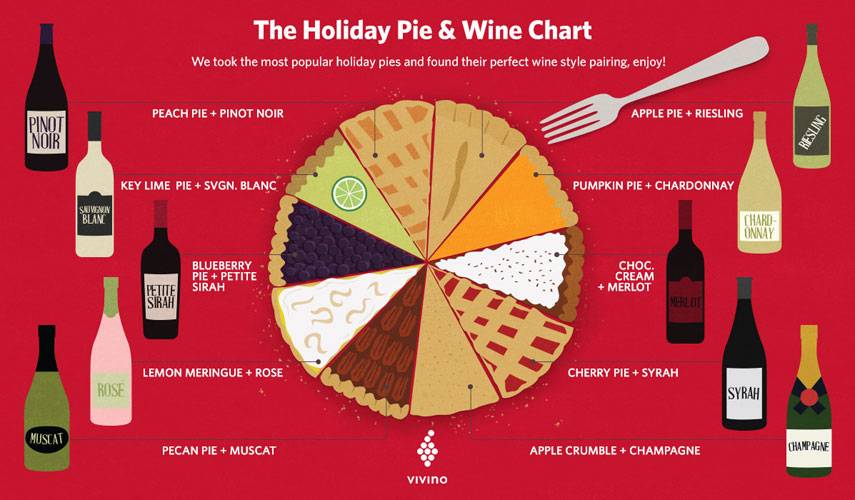 Key lime pie - Sauvignon Blanc (a white wine made from green grapes, it is crisp, elegant, and fresh)
Apple pie – Riesling (a white wine with intense aromas that rise from the glass, it is a rather amazing variety that can range from sweet to dry)
Pumpkin Pie – Chardonnay (Fruity, buttery, with a velvety feel that's atypical to dry white wines.)
Apple crumble pie – Champagne or Sparkling wine (usually quite light and fruity but not often very bubbly. It has a crisp tasting term to describe good acidity and pleasant taste without excessive sweetness.
Peach Pie - Pinot Noir (is a red wine that is typically light to medium bodied and fruit-forward)
Lemon meringue pie - Rose (is a light-colored red wine that is light and fruity)
Chocolate cream pie – Merlot (is a dark blue-colored wine grape variety, it tends to taste fruitier and thus, sweeter)
Blueberry pie - Petite Sirah (an inky dark and bold red, with rich flavors and powerfully dense dry wine)
Cherry pie – Syrah (Syrah is responsible for some of the darkest full-bodied red wines in the world. It has dark fruit flavors from sweet blueberry to savory black olive. you'll be greeted with a punch of flavor that tapers off and then has a spicy peppery note in the aftertaste.)
Pecan pie – Moscato (a white wine that is sweet, low in alcohol and incredibly easy to drink. Historically known as a dessert wine, it has a slight fizz and flavors of nectarine, peach and orange that are very pleasing.)