More art; Less stress
Couldn't we all use a little more art and a lot less stress?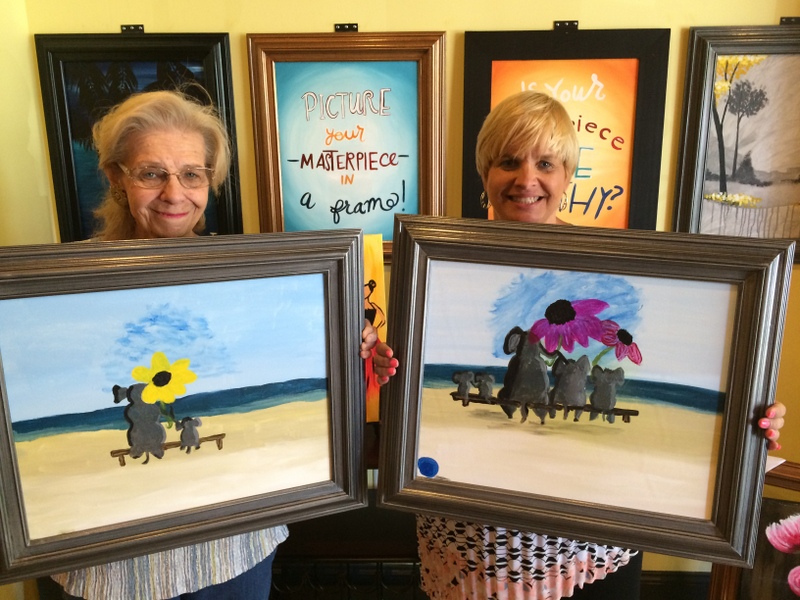 I recently read an article featured in the Huffington Post sighting a study that says making art (even if you "suck" at it) significantly lessens stress in the body. Well for someone who is not the most artistic person, I will say,"True that!" there is something about the mere activity of putting paint to canvas or even just doodling with crayons or markers, or adding bling with a glue gun that washes out daily stress.
Even for our team of professional artists- every time they paint with our guests, they enjoy stress relief. It is fun to paint! And our team loves watching the paintings come together and the happy faces of the painters who turn the blank canvas into a masterpiece, and have fun!
In many cases at Pinot's Palette-Dulles the stress relief comes in the form of tasting great wine too. We all know the benefits of wine, that is for another post :).
For a couple of our VIPs, (Pinot Perks Connoisseurs) painting at their "happy place" is a welcomed 2-3 hour break from busy careers to be able to relax, have fun and let our team take care of them! And for our team, we love to encourage creativity and enjoy getting creative ourselves, dancing, singing, and meeting new people.
If you haven't tried it in a while, I encourage you to at least color or draw/doodle for 45 minutes and see what happens? Even better join us for an upcoming painting and de-stress at the studio and bring home a masterpiece.
Cheers