4 Ways to Paint Positive
Now, we're certainly not trying to say that we have anything to add to the teachings of Buddha, but there's a lot to think about out there in the world, and we here at Pinot's Palette can't help but wonder–can focusing on a beautiful painting help keep you thinking positive?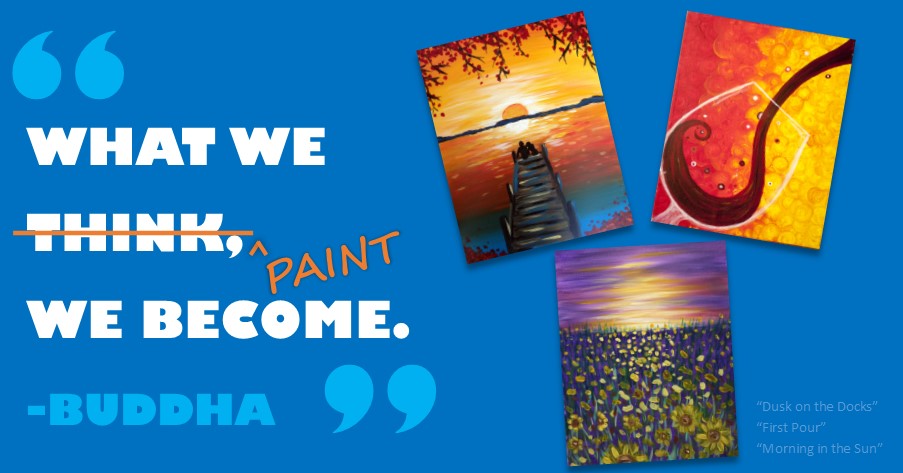 We think the answer is yes, and we've thought of three ways you can show your brain a little TLC with a paint class at Pinot's Palette Cordova.
1. Painting is Meditative
How can a paint party be meditative? If you're asking that question, it's time you came in to the studio and found out for yourself. With a wine glass in one hand and a paint brush in the other, you'll be surprised at how quickly you can forget about what's happening outside the studio. When we turn the music up and you begin to paint, our hope is that your mind will let go of the stress of the day, go completely clear, and be able to focus solely on making your brushstrokes across the canvas.
2. Painting is Creative
This one you may have guessed...the process of painting requires creativity on your part! While we take some of the guesswork out of painting your very own masterpiece, when you're in the studio, you're in charge. Change the colors, change the orientation, change the composition–consider our example painting as a jumping off point, and go on a creative journey! Switching up a Pinot's painting is a great way to get those neurons firing and give your canvas a personal touch.
3. Painting is Reflective
No, I'm not talking about painting mirrors here. If you've been in the studio before, you may have heard us say that no two paintings are the same, and every painting is a reflection of the person who painted it. And it's true! Whether you like to follow the instructing artist's every move, or you prefer to forge your own painting path, your painted canvas is a self-portrait that no one else can duplicate. Don't believe me? Next time you come in to the studio, ask your instructor to help you take a close look at your finished masterpiece. I bet you'll see something familiar in there.
4. Painting is Beautiful!
The art that you create in our studio is beautiful! We work hard to make sure that you go home with a painting that you love, so the best way to make that paint positivity last is by hanging your finished masterpiece where you can be reminded daily to think on the sunny side.
Are you ready to give your brain a break? We can't wait to paint with you!
Cheers!