Meet the Artist - Meet Shelby!
Our local artists are the heart and soul of Pinot's Palette. Here in Cordova, we have an amazing team of ladies who are dedicated to making sure that you have an great experience every time you visit. Here's a little more about one of those ladies--meet Shelby!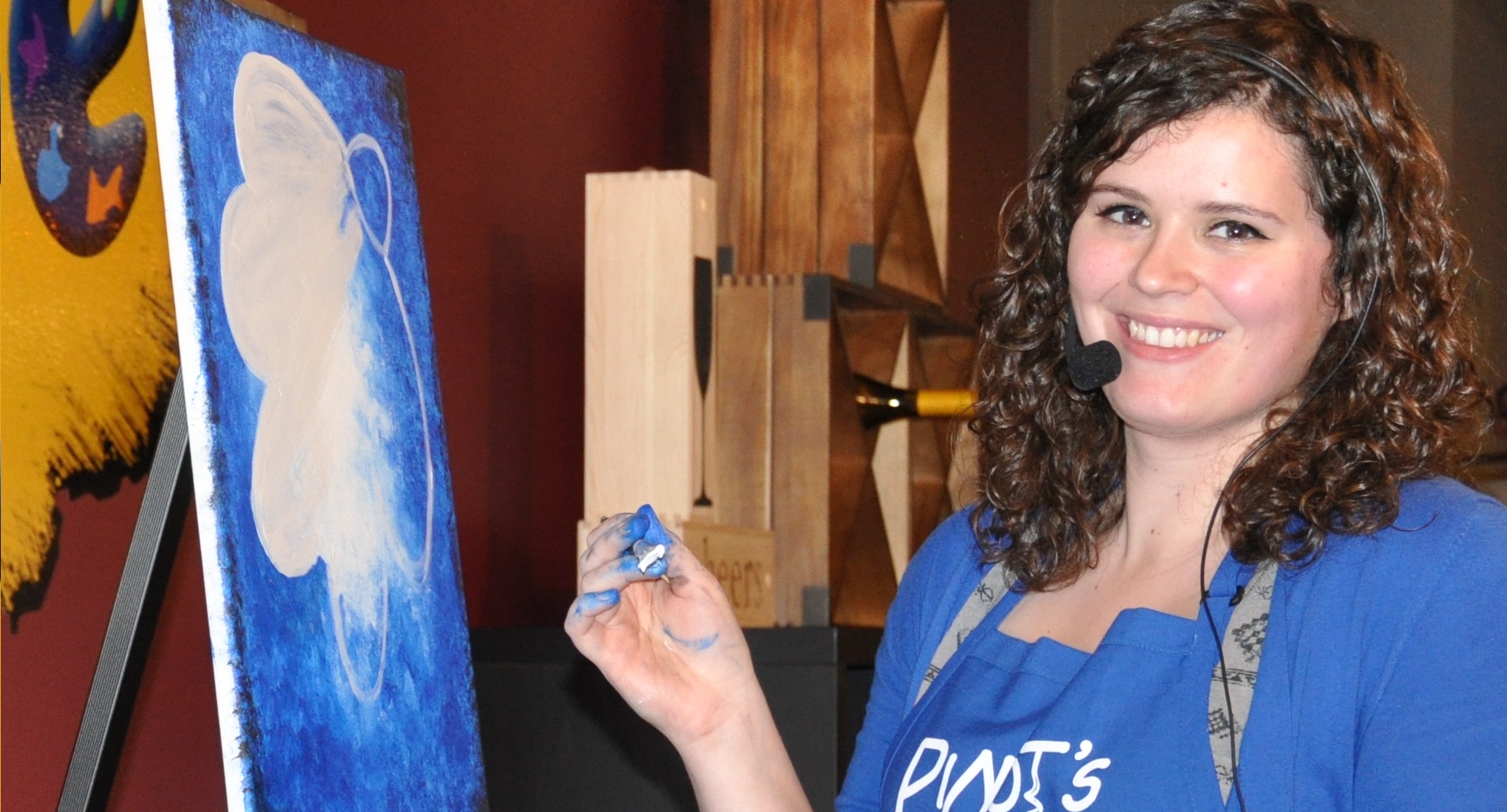 I am a Memphis area native--I grew up in the Cordova/Bartlett area. My parents both went to the University of Memphis, so I've been watching basketball and bleeding Tiger blue my whole life. If you ask my grandmother, I've been drawing since I was big enough to hold a pencil. I don't know what the size requirements for pencil holding are, but I do know that I've been interested in art as long as I can remember. Up until college, drawing was the only art medium I focused on. Then, when I started working on my art minor, I shifted my focus to painting.
I went to the University of Alabama in Tuscaloosa (Roll Tide!). There I got a degree in Classical Studies, with a minor in Studio Art. In addition to painting, I studied printmaking and digital art, which are both mediums I enjoyed and want to explore more. I also learned to knit in college, and since then I've become more and more interested in fiber arts of all kinds. My favorite mediums right now would have to be acrylic paint, pencil, and cross stitch (not all at the same time!). I'm always working on multiple projects at once, so I like to split my focus with different mediums. When I need a break from these, I'm hoping to focus on digital art and tapestry for a little while. The inspiration for my art comes from many different places. A lot of my pieces are inspired by nature, either inanimate objects like plants and the sky, or animals (humans included!). Often there is a narrative quality to my work, where pieces have a backstory that may not be apparent in the final product. Other times I just draw, paint, or stitch things that I find funny or interesting.
My favorite thing to do in my spare time is go to estate sales. Memphis has a lot of cool older homes, and I love wandering around them and seeing what people have spent their lives collecting (it's also a great way to get art supplies on the cheap!). My favorite place to eat in Memphis is Aldo's Midtown. If I only had their Willie Cheech & Bob pizza and limoncello shots for the rest of my life, I would die happy (and quickly). The last book I read was The Good Earth by Pearl S. Buck. I've read it twice now, and I think if life had a required reading list, that book would be on it. The last movie I watched was Addams Family Values, which I've seen probably 30 times or so in my life. As for TV shows, I'm currently working my way through Bob's Burgers on Netflix. I love it! Everyone loves Tina's character, but Louise is my spirit animal. My favorite Pinot's Palette painting has to be Jack Chevron. It's a jack o' lantern painting, and Halloween is my FAVORITE holiday. We're painting him at our studio in October, and I can't wait!
Life Motto: "I know what I'm about, son." -Ron Swanson