Party ATT Pinot's!
A big thanks to the management crew from the AT&T Call Center for partying with us last week!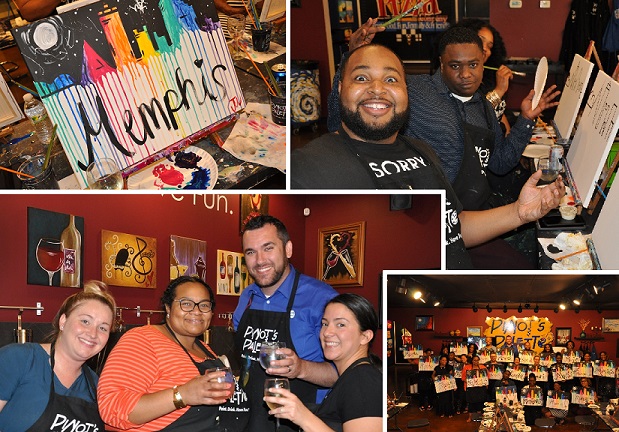 There's nothing better for breaking up the monotony of office life than a trip to Pinot's Palette Cordova to paint, drink, and have fun with your coworkers. Whether you're a paint pro in your spare time, or memories of elementary school art class still give you nightmares, paint parties are fun and relaxing. Let one of our talented local artists guide you step by step through a painting, while you have fun and make memories with the people you see every day.
The best thing about an office party at Pinot's? We do the work for you, providing all the set up, entertainment, and clean up in one of our two available studios. And if you're not up for the drive to Cordova? Give us a call and let's chat about a mobile event...we'll bring the party to you! No matter where you are or who you work with, we can create a custom corporate party experience that's sure to brighten up even the surliest office grouch.
Put a little pep in your coworkers' steps with a paint party at Pinot's Palette! Have thoughts, questions, or big ideas on how to make your next office get together amazing? Give us a call, send us an email, or drop by and check out our beautiful studio!
Cheers!