Paint at Home Art Kits
Looking for something your kids can do at home - Take Home Art Kits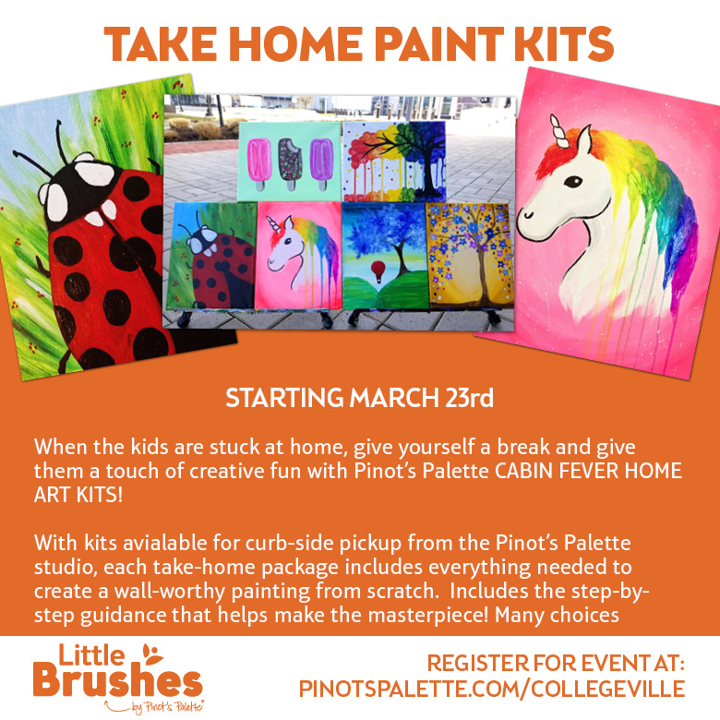 We'll provide you with an all-inclusive kit to paint your own masterpiece at home. Our kits will include the following: 8x10" canvas, two paintbrushes, required paints, self-guided painting instructions, paint kit "How To Use Guide", and a mixing plate. Curbside pickup or home drop off options available.
Simply visit our painting library to select the image you want. Email the studio (collegeville@pinotspalette.com) to let us know your painting selection (https://www.pinotspalette.com/collegeville/painting-library) and if you wish to use larger canvases or to have home delivery service both at additional fees (larger canvas $5/canvas and home delivery $10/stop). We will notify you if your preferred painting is an available option.
We will contact you by email when your kits will be available for studio curbside pickup or home delivery (1-3 days).
There are no refunds or cancellations for take home painting kits!
Enjoy your family time together and host a family painting party at home. Make it the perfect family gathering.