Corporate Team Building at Pinot's Palette Collegeville
There's Nothing Corporate about our team building events - just lots of fun stuff!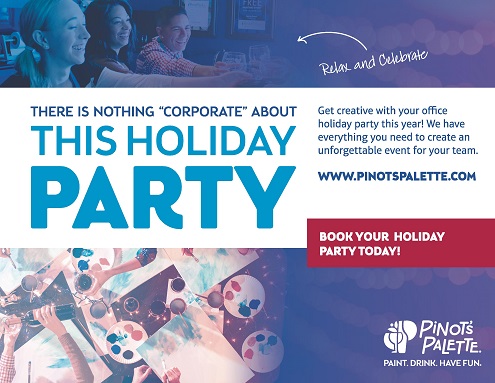 Looking for a fun and different idea for a team building event. Well look no longer. Come join Pinot's Palette at our chic and spacious studio in Exton. We offer a full range of canvas, wooden pallet, wine glass/wine bottle and DIY type painting options to choice from. Listed below are some of our highlight
1. Individual Canvas or Wooden Pallet Paintings - Select from one of two sizes of canvases (16x20" or 10x30") for the image you select. Each guest will paint the same image following the step-by-step instruction of our expert arts.
2. Wine Glass Paintings: Each guest gets to paint a pair of stemmed or stemless wine glasses. Guests can select from a host of examples furnished of select a painted wine glass image from the internet. Our expert artists will help and advise clients how to complete their own master pieces.
3. Wine Bottle Paintings: Guests will paint a single art-instructed image on a wine bottle. Each wine bottle comes with a cork (with battery) and a sting of LED lights. This is a great decorative piece for the home!
4. Puzzle Mural Painting - Guest collaborate painting a single image (either from our library or a corporate marketing image) broke out over multiple canvases to form a single puzzle type image. Size of these puzzle are dependent on the number of guests and/or the size of the wall space the puzzle mural will be hung. This is a fabulous collaborative event for teams!
5. Mystery Painting - Our artist takes you through the painting step-by-step. However there's only one catch - none or our guests know what the painting image is and it is painted upside down. We only offer to paint the image right side up only after our guests tell us what kind of image we are painting. This option is a blast because most parties continue to paint their images upside down even after determining what the image is. This option truly generates laughter at the end of such sessions.
6. Musical Chairs Painting - We treat this event as our Individual Painting option above but with only one modification. Every 15-20 minutes we tell guests to stand and rotate around the studio while the music is playing. Once the music stops guests have to sit at a different painting. Guests will be rotated a total of 4 times. Each guest will do their own canvas on the first and last rotation only. This event truly demonstrations to corporate focus that "all tasks need the entire team to be successful". Lots of fun!
7. Various Do-It-Yourself (DIY) Painting Projects - We offer a host of wooden stencil painting DIY projects to select from. These event last three hours. Come build and paint our own work of art that you would proudly hang in your home.
We are a BYO studio so bring whatever food and drinks you which to have. We also offer catering options as well. We furnish the following for all parties: plates, napkins, utensils, ice, ice bucket, wine glasses and bottle openers. For more information contact us at collegeville@pinotspalette.com or call us at 610-285-9190.
Citizens Bank Team (Dash Mealmaker, VP) stated:
"Upscale, very beautifully appointed. Very accommodating with our planning and made our team of 25+ feel like family. Very involved to ensure a top notch, enjoyable, experience. Prices were very reasonable. I would highly recommend booking a painting experience here."
See the studio
inside:
https://goo..../7HVHx3JGkxN2
outside:
https://goo..../WpMPt5Ttoo92