Now Hiring!
Local Chester County retired army veteran has opened two new dynamic, upscale, Pinot's Palette Studios (Paint and Sip BYOB) in Collegeville and Exton. Voted as one of the best places to work by artists and employees, the Pinot's Palette family is nearly 200 studios strong, and is a leader in the paint and sip industry.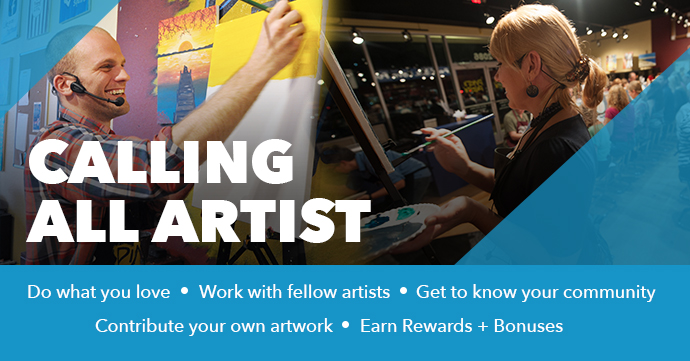 REQUIREMENTS:
• A good sense of humor (when you meet the boss you will understand why this is requirement #1)
• Natural ability to make others smile and have fun
• Artistic talent and passion to explore your creativity
ADDITIONAL REQUIREMENTS / RESPONSIBILITIES:
• Reproduce paintings of various styles from an extensive painting library using instructions written by the original artist
• Create original artwork to be used in classes and for promotional items*
• Lead informal art classes in a lively, engaging manner, and/or support the lead artist in the same fashion assisting customers as a floor artist
• Occasionally participate in off-site classes, marketing and promotional events
PREFERRED EDUCATION / EXPERIENCE:
• Classes in Art or Design related field or the ability to Demonstrate Creative Paintings Skills
• Experience leading a group of people
COMPENSATION:
• Competitive hourly salary plus tips
• Residual monthly annuity income for original paintings used at any one of Pinot's Palette 200 national franchise locations*
TO APPLY SEND THE FOLLOWING:
• Resume & contact information
• Three images of your original paintings
• Links to any website that show your work or social media profile that showcase your work
Email to: Collegeville@pinotspalette.com with title "Job Opening"