Grandparents Day Painting Fun
Happy Grandparents Day! Bring your kids and grandkids and paint with us this cute painting, Mini Owl Stand By You!
Sunday, September 11, from 2-4pm.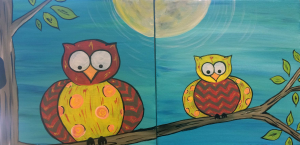 This is one of our "Mommy and Me" classes where parents and grandparents get to paint with the kids and make a masterpiece with their combined paintings! Kids are welcome in this class, and each person that attends must pay, as this class is meant to be done as something fun together! Only $19 a person, one mini canvas is included per person!