Signs Of Spring At Pinot's Palette
Who's Ready For Spring?! If you're itching to get into the warmer weather and longer days like we are, you're going to LOVE these upcoming paintings on the calendar! From spring landscapes and lots of flowers to bright colors and more, we've got it all for you!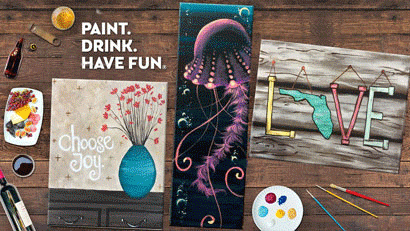 Spring will be here before we know it! More light, blooming flowers, and warm weather is almost here and WE CAN'T WAIT!
This has been a long winter and with signs of times returning to normal as each month passes, we're excited for all that's to come. A great way to bring some Springtime into your home (even if the weather is still rainy and chilly), is some brightly-colored artwork!
We're offering a lot of beautiful paintings this March so come in to the studio OR paint virtually and make some artwork you'll love!
Check out what's coming up:
2/27 Happiness In Bloom
This colorful floral piece will have your happiness blooming in no time!
https://www..../event/514674
3/5 Home Sweet State
Adorn your home with the country charm of this rustic Love piece.
https://www..../event/514464
3/5 Prismatic Elephant
(*SIGN UP ASAP!!) - Seats are almost gone
Elephants are a symbol of power, wisdom, strength, protection of the home, fertility and most important, are good luck.
BLACK LIGHT PAINT PARTY! We'll have some fun Black Light props!
https://www..../event/519586
3/6 Moonlit Wave
Allow crashing waves to transport you to far away places, as the full moon guides you on your journey.
https://www..../event/514463
3/6 Choose Joy
To choose JOY is to find freedom--Choose joy and keep choosing it!
https://www..../event/514336
3/11 Unconditional Love
"My heart is perfect, because you are inside." Join us in creating this beautiful piece of Home Décor art!
https://www..../event/514718
3/13 Monnshine
When the sun goes down and the water is just right, you will find the magic recipe to create your own Moonshine.
https://www..../event/514730
3/13 Sweet Juicy Strawberries
Sweet, juicy strawberries. As fun to paint as they are to eat!
https://www..../event/514729
3/18 Blushing Blooms
Let your love bloom with this beautiful garden, romance painting.
https://www..../event/514712
3/18 Manatee Selfie
Say Cheese! This friendly manatee wants to be a part of the fun!
SPRING BREAK FUN! ALL AGES!
https://www..../event/514397
3/19 Bright Abyss
Drifting jellyfish, serenely glowing creature, this is a haiku
https://www..../event/518080
3/20 Pansy Noir
These cool blues and purples create a relaxed decorative painting that is easy to paint, yet easy to change to make it your own masterpiece!
https://www..../event/514719
3/20 Sunflowers By The Seashore
Whatever the season, sunflowers always have a way of brightening up your day...even if it's at the sunniest seashore.
https://www..../event/514461